Our Great Purpose
Adam Smith on Living a Better Life
Format: Hardback
Publisher: Princeton University Press
Published: 17th Sep '19
£14.99
Available to order, but very limited on stock. If we have issues obtaining a copy, we will let you know..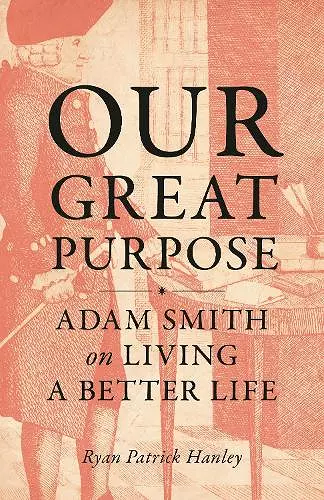 Invaluable wisdom on living a good life from the founder of modern economics

Adam Smith is best known today as the founder of modern economics, but he was also an uncommonly brilliant philosopher who was especially interested in the perennial question of how to live a good life. Our Great Purpose is a short and illuminating guide to Smith's incomparable wisdom on how to live well, written by one of today's leading Smith scholars.

In this inspiring and entertaining book, Ryan Patrick Hanley describes Smith's vision of "the excellent and praiseworthy character," and draws on the philosopher's writings to seach of us can go about developing one. For Smith, an excellent character is distinguished by qualities such as prudence, self-command, justice, and benevolence—virtues that have been extolled since antiquity. Yet Smith wrote not for the ancient polis but for the world of market society—our world—which rewards self-interest more than virtue. Hanley shows how Smith set forth a vision of the worthy life that is uniquely suited to us today.

Full of invaluable insights on topics ranging from happiness and moderation to love and friendship, Our Great Purpose enables modern readers to see Smith in an entirely new light—and along the way, learn what it truly means to live a good life.
"Ryan Patrick Hanley has provided a succinct, witty and informative work on the relevance of Adam Smith today, mercifully released from the old 'father of capitalism' misrepresentation. . . . An excellent primer on the true Smith."---Stuart Kelly, Scotland on Sunday
"[Adam] Smith had a way of pulling all aspects of human society together, from eating and drinking with friends to trading on the stock exchange. To separate them destroys the larger picture. . . . While Smith never advocated 'a single best way for all people to live,' . . . [he] deftly connected all human activity into a single, philosophical portrait, and Our Great Purpose makes a compelling case for us to study it closely."---David J. Davis, Wall Street Journal
"An accessible, erudite, and concise introduction to Adam Smith in full, the moral philosopher of wisdom and prudence."---Jordan Ballor
"
Hanley is a distinguished political scientist at Boston College who has specialized in Smith; here in thirty short chapters he concentrates his accumulated expertize to deliver an Ariadne's thread to guide the reader through the multiple issues Smith introduces and explores. . . . This should be passed out to all beginning students of Economics.
"
---Patrick Madigan, Heythrop Journal
"An essential text of practical wisdom."
---David Lorimer, Paradigm Explorer
"This excellent book deserves a wide audience and should be required reading for every college freshman."
---J. H. Spence, Choice Reviews
"A gem of a book, offering fresh insights into Smith's writings and drawing holistic connections that make his philosophy come alive."
---Jonathan Wight, The American Economist
ISBN: 9780691179445
Dimensions: unknown
Weight: unknown
176 pages