The Infidel and the Professor
David Hume, Adam Smith, and the Friendship That Shaped Modern Thought
Format:Paperback
Publisher:Princeton University Press
Published:4th Jun '19
£16.99
Available to order, but very limited on stock - if we have issues obtaining a copy, we will let you know.
This paperback is available in another edition too: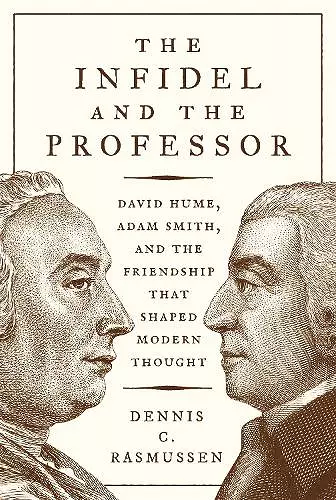 The story of the greatest of all philosophical friendships—and how it influenced modern thought

David Hume is arguably the most important philosopher ever to have written in English, but during his lifetime he was attacked as "the Great Infidel" for his religious skepticism and deemed unfit to teach the young. In contrast, Adam Smith, now hailed as the founding father of capitalism, was a revered professor of moral philosophy. Remarkably, Hume and Smith were best friends, sharing what Dennis Rasmussen calls the greatest of all philosophical friendships. The Infidel and the Professor tells the fascinating story of the close relationship between these towering Enlightenment thinkers—and how it influenced their world-changing ideas. It shows that Hume contributed more to economics—and Smith contributed more to philosophy—than is generally recognized. The result is a compelling account of a great friendship that had great consequences for modern thought.
"One of The Australian Review's 2017 Books of the Year"
"One of The Guardian's Best Books of 2017"
"Selected for Bloomberg View's "Must-Reads of 2017: From Space to Chinese Noir""
"One of Project Syndicate's Best Reads in 2017 (chosen by Kaushik Basu)"
"Shortlisted for the 2018 Ralph Waldo Emerson Award, Phi Beta Kappa Society"
ISBN: 9780691192284
Dimensions: unknown
Weight: unknown
336 pages