The British Museum Guide
(English)
Format:Paperback
Publisher:British Museum Press
Published:28th Jul '16
£6.00
Available for immediate dispatch.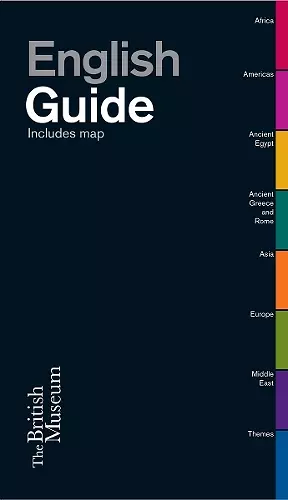 This practical guide is split into seven main sections, each covering a key geographical area or historical period: Africa, the Americas, Ancient Egypt, Ancient Greece and Rome, Asia, Europe, and the Middle East.

An introduction to the collections in each of these areas is followed by a curated selection of key objects, arranged by room number to help orientate your visit.

Following this are seven themed galleries: Enlightenment, Collecting the World, the Waddesdon Bequest, Living and Dying, Clocks and Watches, Money, and Prints and Drawings. Fully illustrated in colour, there is a complete map of the Museum at the front of the guide, which gives detailed directions.

This is a perfect companion for visitors who want to savour the highlights of the collection.
ISBN: 9780714151069
Dimensions: unknown
Weight: 300g
128 pages