Single
A totally gripping psychological thriller full of twists
Format:Paperback
Publisher:Little, Brown Book Group
Published:26th Nov '20
£9.99
Available to order, but very limited on stock - if we have issues obtaining a copy, we will let you know.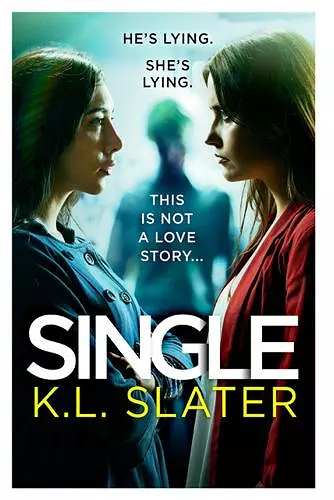 An absolutely unputdownable psychological thriller from the bestselling author of Blink and The Mistake. Perfect for fans of The Girl on the Train and The Couple Next Door.
'I keep feeling like I'm being watched - dropping the boys off at school, choosing wine at the supermarket - but when I turn around there's nobody there...'

When single mother Darcy's son falls from a rope bridge at a local playground, life stands still. She clutches his small, limp body, frozen, until a pair of strong hands push her aside, and she watches as George, a local doctor, saves her son's life.

George is a single parent too, and with his twinkling hazel eyes, easy charm, and lack of wedding band is almost too good to be true, but coffee becomes lunch, lunch becomes dinner, and soon they can't go an evening without seeing each other. When he invites her to move into his beautiful home with its sprawling garden for her boys, Darcy doesn't hesitate.

But as Darcy is settling in, she receives a bunch of flowers with a chilling message. George says they're from an obsessed ex-girlfriend, Opal, and days later Opal turns up at Darcy's son's football match. She claims to have shocking information that could threaten George's custody of his daughter.

Darcy doesn't know who to trust, but she's starting to suspect that, whatever the truth, she might have put her beloved boys into terrible danger ...

From the million-copy-bestselling author K.L. Slater this utterly gripping psychological thriller will make you gasp out loud as you race towards the unforgettable twist. If you loved The Girl on the Train and The Wife Between Us this book is for you.

What everyone is saying about Single:

'I would liken reading 'Single' to being strapped into a car with a broken axle on the Tilt-A-Whirl carnival ride. You're gonna get tossed around until you don't know which way is up. Yet, in the end, you can't deny that it was one helluva ride. All superlatives aside, this book stands out in its cleverness and execution. K.L. Slater knocked it out of the park. 5+ stars.' Goodreads Reviewer, *****

'Another stunning novel from KL Slater. .Loved every twist...
ISBN: 9780751574944
Dimensions: 196mm x 126mm x 28mm
Weight: 240g
352 pages