Oh, What a Lovely Century
One man's marvellous adventures in love, war and high society
Format:Paperback
Publisher:Little, Brown Book Group
Published:2nd Jun '22
£10.99
Available for immediate dispatch.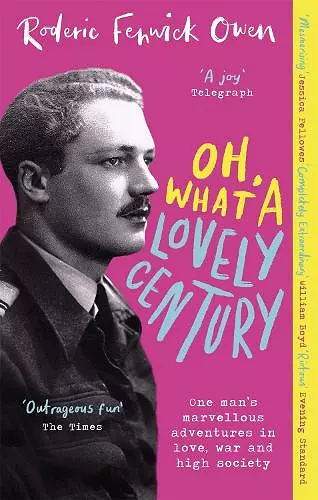 Written by an upper class travel writer who was born in 1921, this stranger-than-fiction memoir about love, sex, war, tragedy and adventure traverses the whole of 20th century planet earth and features countless celebrities, politicians and royalty.
'A completely extraordinary autobiography. One that reads like the most outlandish, beguiling fiction but that is - amazingly - all true' - William Boyd, Sunday Times bestselling author

'Outrageous fun...my goodness there are knee-tremblers galore in this racy memoir' - The Times

'A wonderful journey through 20th Century history. I thoroughly enjoyed it' - Lady Anne Glenconner, author of Lady in Waiting

---

For fear of growing up like his stiff-upper-lipped Uncle Dick, Roderic Fenwick Owen (1921-2011) survived Eton, Oxford and the Second World War to become a travel writer, experiencing the varied wonders of the 20th century's people and places in that guise. Frequently finding himself party to crucial historical events (including experiencing Nazi Germany in 1939 and the Pentagon during the Cold War Years), his life featured a stellar cast of characters from Eisenhower and Jackson Pollock to Christopher Lee and Sean Connery.

At the heart of Roddy's writing adventures lay his search for love, even if just for the night. He fell head over heels for, and married a Polynesian princess while beachcombing in Tahiti, but when a dazzling trip to 1950s New York opened his eyes to the fact he was more attracted to men than women, he was forced to continue his quest for his soulmate under threat of danger. This was at a time when the police were prosecuting and imprisoning more gay men than ever before, including some of his friends.

Lyrical, witty and at times jaw-droppingly unbelievable, Oh, What A Lovely Century is both a highly personal memoir and a marvellous obituary of an ever-changing and now lost world - that was frequently the best of times, and sometimes the worst.

---
'If you have a penchant for posh goss, don't miss this riotous memoir' - Evening Standard

'[Fenwick Owen] brushed the skirts of history ... a joy' - The Telegraph

'Stuffed to the gills with raucous anecdotes and mesmerising detail ... Fenwick Owen's memoirs are witty and touching but...
Gamey, rollicking and hugely entertaining ... I can think of no better recommendation * Spectator *
ISBN: 9780751583007
Dimensions: 196mm x 126mm x 40mm
Weight: 380g
576 pages