1979
The unmissable first thriller in an electrifying, brand-new series from the No.1 bestseller
Format:Paperback
Publisher:Little, Brown Book Group
Published:3rd Feb '22
£8.99
Available for immediate dispatch.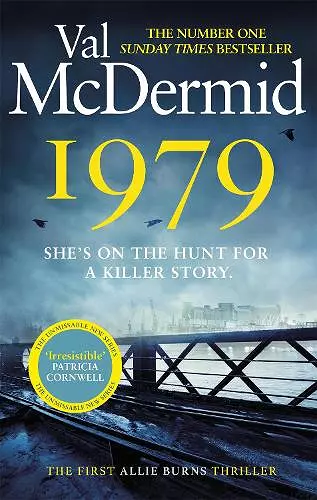 The first breathtaking thriller in a brand-new series from number one bestseller Val McDermid.
THE FIRST IN A THRILLING NEW SERIES FROM THE NO.1 BESTSELLERKaren Pirie returns . . . Pre-order Past Lying, the eagerly-awaited new Karen Pirie thriller, publishing October 2023
____________________
She's on the hunt for a killer story . . .
1979
. It's the winter of discontent, and Allie Burns is chasing her first big scoop. One of few women in the newsroom, she needs something explosive for the boys' club to take her seriously.
Soon Allie and fellow reporter Danny Sullivan are making powerful enemies with their investigations - and Allie won't stop there. When she discovers a terrorist threat close to home, she devises a dangerous plan to make her name.
But Allie is a woman in a man's world . . . and putting a foot wrong could be fatal.
____________________
'A
supremo of the genre
at the height of her powers'
PETER JAMES
'The Queen of Crime has delivered
another masterpiece
'
DAVID BALDACCI
'Allie is a
fabulous character
, I'll go wherever she takes me'
MARIAN KEYES
'A
thrilling snapshot
of a
fascinating
era'
JANE HARPER
'McDermid at her
nail-biting, heart-rending best
'
CHRIS WHITAKER
'Her
best book
in years'
THE TIMES, BOOK OF THE MONTH
'Allie Burns is
off to a flying start
, and
well worth following
'
SCOTSMAN
'A
perfect
snapshot of the social and political issues of the time'
LINWOOD BARCLAY
'Full of
wit
,
thrills
and
incisive social observation
and features a
marvellous new character
'
MICK HERRON
'I have been reading Val McDermid for twenty-five years, so
I am really saying something when I tell you I enjoyed this novel the most
'
CHRIS BROOKMYRE
'The good news is that
this excellent novel marks the start of a new series
'
GUARDIAN
'
Brilliant characters
,
masterful plotting
'
CHRIS HAMMER
'An
excellent
opener to what promises to be an
outstanding series
'
SPECTATOR
'The
fast-paced
storytelling flows
irresistibly
'
IRISH TIMES
'
Riveting
'
DAILY EXPRESS
'
Sensational
.
One of Britain's most accomplished writers
'
SUNDAY EXPRESS
'A
nail-biting
new series'
OBSERVER
Praise for 1979 * - *
The Queen of Crime has done it again, this time with Allie Burns, a relentless investigative journalist who birddogs crime and terror back in the days of typewriters and smoke-filled newsrooms. Masterfully set in Edinburgh, 1979 transports us from the first page. Val McDermid's latest is more than just a compelling story. It's an irresistible and palpable journey that's especially gratifying in today's remote world -- Patricia Cornwell
A brilliant novel by a supremo of the genre at the height of her powers. A cast of engaging new characters promise to make this an unmissable new series and a thrilling addition to the genre -- Peter James
A tour-de-force by the amazing McDermid. From the very first pages she effortlessly transports us back in time . . . The plot and characters are remarkable and compelling. Hopefully, we will see the crackerjack Allie Burns back on the pages. The Queen of Crime has delivered another masterpiece -- David Baldacci
Val McDermid is the absolute QUEEN. It's great that this is the first of a new series. Allie is a fabulous character, I'll go wherever she takes me and I'm dying to see what she does next -- Marian Keyes
Packed full of Val McDermid's trademark brilliance, 1979 is a thrilling snapshot of a fascinating era -- Jane Harper

McDermid is at her considerable best here . . . The good news is that this excellent novel marks the start of a new series
* Guardian *
A brilliant thriller, as well as a perfect snapshot of the social and political issues of the time. If there's a novel that better captures what working on a newspaper was like back in the day, I can't think of it
-- Linwood Barclay
Unrivalled. Unmissable. Unforgettable. 1979 is Val McDermid at her nail-biting, heart-rending best
-- Chris Whitaker
While "gripping" is an adjective over-used in book reviews, it's a fitting description of a sensational novel. A surefire bestseller from one of Britain's most accomplished writers
* Sunday Express *
A new series from Val McDermid promises to be an event - and 1979 delivers. It's full of wit, thrills and incisive social observation, and features, in Allie Burns, a marvellous new character to follow through the years to come
-- Mick Herron
Absolutely fantastic. I have been reading Val McDermid for twenty-five years, so I am really saying something when I tell you I enjoyed this novel the most. Immersive in its authenticity and pungently atmospheric . . . For someone who remembers the print newsrooms in their heyday, it was a trip into the past so realistic I could smell the fag smoke on my clothes
-- Chris Brookmyre
McDermid can do edge-of-seat suspense better than most novelists . . . An excellent opener to what promises to be an outstanding series
* Spectator *
Brilliant characters, masterful plotting and a pitch-perfect evocation of the heyday of newspapers. I loved it
-- Chris Hammer
A nail-biting new series
* Observer *
A fast-paced triple whammy of a thriller, with all three plots, each credible, running simultaneously. It uses all the crime-writing skills she has honed over the years, and adds something else - a pin-sharp portrait of tabloid journalism in its messy, misogynistic 1970s heyday. Allie Burns is off to a flying start, and well worth following down the decades
* The Scotsman *
A fast-paced triple whammy of a thriller, with all three plots, each credible, running simultaneously. It uses all the crime-writing skills she has honed over the years, and adds something else - a pin-sharp portrait of tabloid journalism in its messy, misogynistic 1970s heyday. Allie Burns is off to a flying start, and well worth following down the decades
* The Scotsman *
Val McDermid was a newshound at the time and it shows . . . This is her best book in years
* The Times, Book of the Month *
Allie is a gratifyingly multi-faceted character, and the sociopolitical elements here add a frisson
* Financial Times *
The work of a writer at the peak of her powers
* Herald *
The fast-paced storytelling flows irresistibly, and McDermid marshals a wide-ranging cast of characters with aplomb
* Irish Times *
Her evocation of the Winter of Discontent is spare and skilful . . . allowing the characters, not the period, to take centre stage
* Scotland on Sunday *
Captures the bleakness and misery of the era with pitch-perfect accuracy
* Irish Independent *
A superb evocation of the humiliations and triumphs of being a junior reporter, set against the backdrop of the broken Britain of 1979 . . . Riveting
* Daily Express *
A novel as touching as it is gripping
* Big Issue *
There are all sorts of reasons to love this book, from the unvarnished truth about newsrooms in the late 70s, to glimpses into social history . . . Engrossing
* The i *
An engrossing read
* Sunday Post *
A delightful throwback . . . McDermid looks back in anger - and with some measure of affection - at the vexed era she lived through that gave rise to her socially engaged mysteries
* Washington Post *
The Crime Queen has done it again and created a character we will all come to know and love. A masterpiece
* Daily Record *
A pacey read
* Daily Express *
ISBN: 9780751583076
Dimensions: 196mm x 128mm x 32mm
Weight: 324g
464 pages