1989
The brand-new thriller from the No.1 bestseller
Format:Hardback
Publisher:Little, Brown Book Group
Published:18th Aug '22
£20.00
Available for immediate dispatch.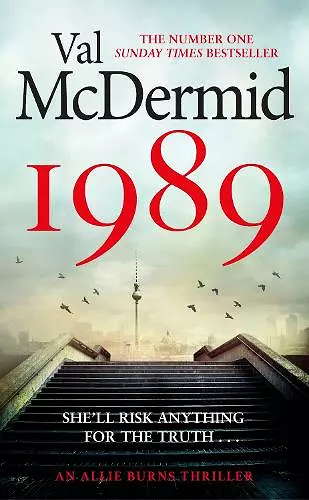 The second pulse-racing thriller in the era-defining, #1 bestselling Allie Burns series
THE INSTANT SUNDAY TIMES BESTSELLERTHE SECOND THRILLING NOVEL IN VAL MCDERMID'S NEW ALLIE BURNS SERIES___

There's nothing like a killer story . . .
1989. The world is changing, and Allie Burns is still on the front line, covering the stories that count.
Although Allie is no longer an investigative journalist, her instincts are sharper than ever. When she discovers a lead about the exploitation of society's most vulnerable, Allie is determined to give a voice to those who have been silenced.
As Allie edges closer to exposing the truth, she travels behind the Iron Curtain, to East Berlin on the brink of revolution. The dark heart of the story is more shocking than she ever imagined. And to tell it, Allie must risk her freedom and her life . . .
The latest Allie Burns thriller, set a decade after the bestselling first novel in the ground-breaking, iconic new series.___Praise for the Allie Burns series
'
McDermid is at her considerable best'
GUARDIAN
'Irresistible' PATRICIA CORNWELL
'A brilliant novel by a supremo of the genre' PETER JAMES
'Outstanding'
SPECTATOR
'Another masterpiece' DAVID BALDACCI
'Sensational. One of Britain's most accomplished writers'
SUNDAY EXPRESS
'A masterly setter of scene'
SCOTSMAN
1989, by reigning queen of UK crime Val McDermid, is a sequel to her change-of-pace 1979 , the memorable beginning to a quintet of books set in a Glaswegian tabloid office . . . This is every bit as accomplished as its predecessor, with the same crisp sense of an increasingly distant era * Financial Times *
One of Britain's most successful crime novelists . . . The novel evokes glorious nostalgia for those who recall mobile phones like house bricks and laptops the size of suitcases * Sunday Times *
A book of many parts . . . [McDermid is] subverting the crime genre to her own ends. How the remaining three volumes will turn out is anyone's guess * The Times *
There is a great deal to enjoy in this novel . . . McDermid remains a masterly setter of a scene and developer of a storyline. There is an agreeable warmth to much of the book, and the evocation of the world of journalism and politics of the late 20th century is convincing . . . [A book] that will be deeply enjoyed * Scotsman *
Studded with a wealth of period detail . . . It whips along like bushfire * Herald *
McDermid convincingly recreates the grim era of AIDS, Lockerbie and Hillsborough while providing several juicy mysteries for the reader to gnaw on * Daily Mirror *
Praise for 1979 * - *
The Queen of Crime has done it again . . . Irresistible -- Patricia Cornwell
McDermid is at her considerable best here * Guardian *
A supremo of the genre at the height of her powers . . . An unmissable new series -- Peter James
Allie is a fabulous character, I'll go wherever she takes me and I'm dying to see what she does next -- Marian Keyes
McDermid can do edge-of-seat suspense better than most novelists . . . An excellent opener to what promises to be an outstanding series * Spectator *
A tour-de-force . . . The Queen of Crime has delivered another masterpiece -- David Baldacci
Packed full of Val McDermid's trademark brilliance, 1979 is a thrilling snapshot of a fascinating era -- Jane Harper
While "gripping" is an adjective over-used in book reviews, it's a fitting description of a sensational novel. A surefire bestseller from one of Britain's most accomplished writers * Sunday Express *
A nail-biting new series * Observer *
Allie Burns is off to a flying start, and well worth following down the decades * Scotsman *
A new series from Val McDermid promises to be an event - and 1979 delivers . . . A marvellous new character to follow through the years to come -- Mick Herron
ISBN: 9780751583106
Dimensions: 236mm x 152mm x 40mm
Weight: 647g
432 pages