Sous Vide Cooking Made Simple
Techniques, Ideas and Recipes to Cook at Home
Format:Paperback
Publisher:Quarto Publishing Group USA Inc
Published:22nd Sep '20
Currently unavailable, our supplier has not provided us a restock date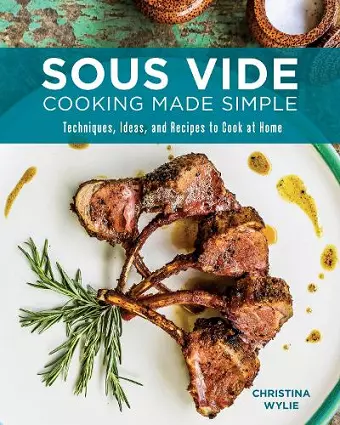 The sous vide, the affordable and revolutionary cooking device now available everywhere, cooks any food for every meal to perfection. In this simple and easier-to-use edition of The Sous Vide Kitchen, join Anova sous vide recipe developer, Christina Wylie, and take your skills to the next level!

If you own a sous vide machine, chances are you've tried it out by cooking burgers, steak, and pork. But that's just the beginning. For years, restaurants have used sous vide to perfectly cook a wide variety of foods, including eggs, vegetables, and more. Now you can do the same in your home kitchen!

Use sous vide to make the perfect breakfast of soft boiled eggs, then go further and learn how to use it to make scrambled eggs, overnight oatmeal, and other breakfast staples. For lunch, try topping your salad with perfectly cooked sous vide tuna or salmon (the secret is a short brine). For dinner, the options are endless. Choose from Asian dishes like Char Siu Pork Loin and Miso-Marinated Cod, reinvent a favorite with the Deconstructed Beef Wellington or Spicy Southern-Fried Chicken, or enjoy a surprisingly simple 48-Hour Beef Brisket. Finish the meal with a sous vide twist on cheesecake or a nightcap of homemade spiced rum (speed-infused using sous vide, of course).
 
With recommended times and temperatures for every recipe, unique combinations of sous vide with other cooking techniques, and more than 70 recipes to explore, this book will help you get the most out of sous vide.
ISBN: 9780760369227
Dimensions: unknown
Weight: unknown
192 pages