HappyHead
The Most Anticipated YA Debut of 2023: Book 1 of 2
Format:Paperback
Publisher:Oneworld Publications
Published:16th Mar '23
£8.99
Available for immediate dispatch.
This paperback is available in another edition too: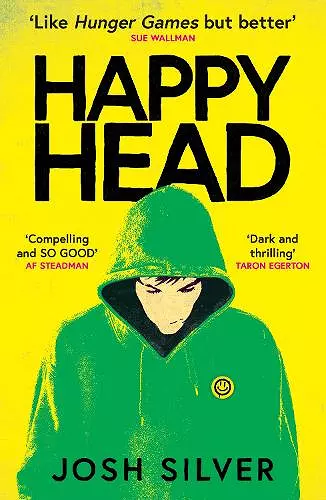 Squid Game meets They Both Die at the End in this thought-provoking LGBTQ+ thriller
We are in an epidemic. An epidemic of unhappiness. 
…
Friends, here is the good news: HappyHead has the answer.
When Seb is offered a place on a radical retreat designed to solve the national crisis of teenage unhappiness, he is determined to change how people see him and make his parents proud. But as he finds himself drawn to the enigmatic Finn, Seb starts to question the true nature of the challenges they must undergo. The deeper into the programme the boys get, the more disturbing the assessments become, until it's clear there may be no escape...
The first in a thrilling, thought-provoking new series for fans of They Both Die at the End and Squid Game
'This is a truly thought-provoking thriller, channelling the menace of dystopian favourites such as Maze Runner and The Hunger Games .'
* Observer *
'So tense doesn't quite cut it. It's SO GOOD!'
-- A.F. Steadman, author of Skandar and the Unicorn Thief
'Like Hunger Games but better'
-- Sue Wallman, author of Lying About Last Summer
'Dark and thrilling'
-- Taron Egerton
'A brilliantly written page-turner, HappyHead is a compelling love story set in an all too possible world where no one can be trusted and teenage happiness is not an aspiration but a must. Sharp and unsettling, Silver's debut had me rooting for Seb and Finn from the off.'
-- Amy Beashel, author of The Sky Is Mine
'HappyHead is a heart-pounding must-read. Thought-provoking and absorbing, it is nearly impossible to put down.'
-- Ravena Guron, author of This Book Kills
'Cancel your reading slump, because Josh Silver has arrived. With a voice that will suck you in from page one, you'll be rooting for Seb from the edge of your seat and he won't let you go until the very last line. An unforgettable debut that recaptures the thrills and spills of great YA dystopian fiction.'
-- Melissa Welliver, author of The Undying Tower
'Josh Silver has written an incredible book! Seb is such a charismatic and endearing main character with a unique voice that makes you root for him immediately. It's a book that grows in tension and action with each page, with a brilliantly evil concept and phenomenal twists. The "Love Island" meets "Squid Game" concept is fantastic and it only gets more compelling the deeper into the story you get. I honestly can't wait to read the next instalment! (there better be a next instalment!!)'
-- Ben Oliver, author of The Loop
'Silver deftly weaves in the familiar platitudes – and the genuinely good, evidence-based advice – alongside more sinister elements. This debut is both fun and thought-provoking.'
-- Claire Hennessy * The Irish Times *
'Silver is a compelling storyteller, and the participants' experiences... make for page-turning reading.' 
* Books for Kee
ISBN: 9780861545537
Dimensions: 198mm x 129mm x 29mm
Weight: unknown
400 pages