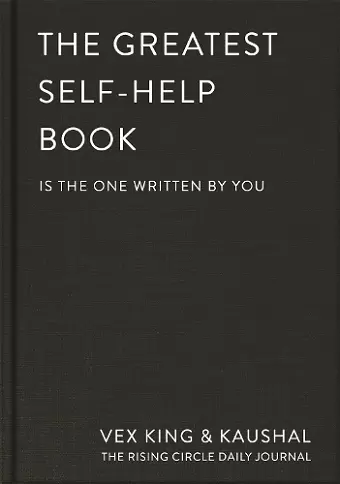 Are you ready to rewrite your story?
Write your own self-help book with this affirming daily journal from bestselling author of Good Vibes, Good Life and Healing is the New High, and his wife, social media star Kaushal, promoting gratitude, happiness, reflection and self-love.
Prepare to go on a journey of self-exploration with Vex King, the No.1 bestselling author of Good Vibes, Good Life. With social media star, Kaushal, the husband and wife duo come together on their first ever project with The Greatest Self-Help Book, a game-changing daily journal that allows you to write your own self-help book.

'An incredible book that helps to unlock your life lessons.' – Dr Lalitaa Suglani, @dr.lalitaa

'A creative, compassionate and loving guide.' – Dr Tasha Bailey, @realtalk.therapist

Filled with exercises, activities and visual prompts, this journal will help you to understand and regulate your emotions, build and maintain routines and habits that work for you, shift negative mindsets and cultivate positive thought patterns, track personal growth, build self-awareness and carve out time to practise self-love and gratitude.

A journal like no other, expect to find:
- Daily gratitude and positive affirmations
- Therapy-led exercises and interactive mindful activities
- Monthly self-reflections to track personal growth
- Mind, body and spirit check-ins

Think of this as your companion to help you build a healthier relationship with yourself and others. The Greatest Self-Help Book is the one written by you.

With its minimalistic and luxurious design, complete with a beautiful cloth fabric hardback cover and a ribbon bookmark, this journal is the perfect gift for loved ones. Made using mineral oil-free ink and paper manufactured from pulp, sourced from legally and sustainably managed forests.
This is such a creative, compassionate and loving guide. Whether you're new to journalling or a veteran, Kaushal and Vex gently walk with you along the jury so that you're never left alone and stuck with the process. * Tasha Bailey, @realtalk.therapist *
The Greatest Self Help Book - the one written by you is an incredible book that helps to unlock your life lessons. * Dr. Lalitaa Suglani, @dr.lalitaa *
ISBN: 9781035005185
Dimensions: 215mm x 153mm x 32mm
Weight: 662g
288 pages