How to Feel Better
A Guide to Navigating the Ebb and Flow of Life
Format: Paperback
Publisher: Pan Macmillan
Published: 2nd Mar '23
£9.99
Available, normally delivered within 3-6 days.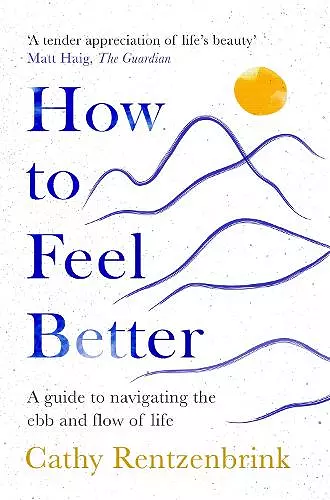 A wise, warm and uplifting guide to navigating anything life might throw at you from the Sunday TImes bestselling author of The Last Act of Love, Cathy Rentzenbrink.
'A tender appreciation of life's beauty' Matt Haig, The Guardian

In How to Feel Better, bestselling author Cathy Rentzenbrink shares the advice that has seen her through life's ups and downs. From her etiquette for bad news to the words of wisdom she would like to pass onto her son, How to Feel Better is full of warm, gentle guidance and comfort for when you need it most.

Previously published as A Manual for Heartache, this revised edition contains a new introduction from Cathy and an inspiring addendum of advice from other authors on what they do to feel better, whatever the world throws their way.
Poignant . . . short on self-pity, but big on compassion and supremely big-hearted. It is a generous and important addition to an expanding shelf of therapeutic memoirs that help us blunder through modern life. -- The Sunday Times
The perfect choice for anyone keen. . . to make sense of any recent emotional upheaval -- Laura Barnett
ISBN: 9781035014255
Dimensions: 197mm x 129mm x 15mm
Weight: 158g
208 pages