Berserker!
An Autobiography
Format:Hardback
Publisher:Pan Macmillan
Published:28th Sep '23
£22.00
Available for immediate dispatch.
This hardback is available in another edition too:
We're hosting an event related to this title! Find out more below: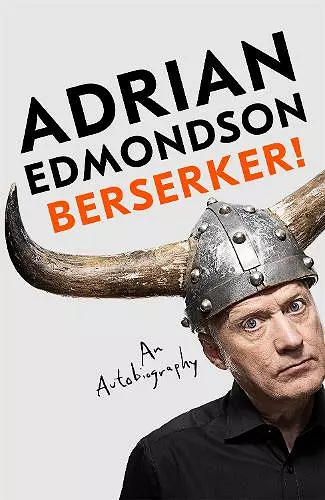 Berserker! is the riotous, one-of-a-kind memoir from one of Britain's most beloved comedians, Adrian Edmondson.
From brutal schooldays to 80s anarchy, through The Young Ones, Bottom and beyond, Berserker! is the one-of-a-kind, fascinating memoir from an icon of British comedy, Adrian Edmondson.

*****

'EVERYTHING ADRIAN EDMONDSON WRITES ABOUT MAKES YOU LOVE HIM DESPERATELY' - Caitlin Moran

'THE BERSERKER FROM THE YOUNG ONES AND BOTTOM TELLS HIS STORY WITH SELF-EFFACING CHARM AND NO END OF BACKSTAGE ANCEDOTES' - Ian Rankin

'THIS IS A BLOODY GOOD BOOK. LOTS OF PEOPLE LIVE INTERESTING LIVES, BUT VERY FEW PEOPLE CAN WRITE GENUINELY INTERESTING BOOKS ABOUT THOSE LIVES. ADRIAN EDMONDSON HAS DONE BOTH. IT IS INCREDIBLY FUNNY, BUT IT ALSO A LOT, LOT MORE THAN THAT' - Miles Jupp

'A HILARIOUS ROMP THROUGH A GOLDEN ERA OF COMEDY AND A SEARINGLY HONESY AND MOVING MEMOIR' - Red Magazine

*****

Ade Edmondson smashed onto the comedy circuit in the 1980s, stormed The Comedy Store and, alongside Rik Mayall, brought anarchy to stage and screen. How did a child brought up in a strict Methodist household – and who spent his formative years incarcerated in repressive boarding schools – end up joining the revolution? Well, he is part Norse. Could it be his 'berserker' heritage?

With wisdom, nostalgia and uniquely observed humour, Ade traces his journey through life and comedy: starting out on the alternative scene, getting arrested in Soho, creating his outrageously violent characters and learning more about his curious (possibly Scandinavian) heritage. With star-studded anecdotes and set to a soundtrack of pop hits which transport the reader through time, it's a memoir like no other.

Berserker [noun]: A Norse warrior frenzied in battle and held to be invulnerable; often off his tits on henbane and large quantities of alcohol; one who is out of control with anger or excitement.
Boarding school, despair, love, music, Rik Mayall – everything Adrian Edmondson writes about makes you love him desperately -- Caitlin Moran, journalist and author of How to Be a Woman
The berserker from The Young Ones and Bottom tells his story with self-effacing charm and no end of backstage anecdotes * Ian Rankin *
This is a bloody good book. Lots of people live interesting lives, but very few people can write genuinely interesting books about those lives. Adrian Edmondson has done both. And while it is incredibly funny, it is also a lot, lot more than that * Miles Jupp *
ISBN: 9781035014279
Dimensions: 242mm x 163mm x 41mm
Weight: 674g
416 pages