Wound is the Origin of Wonder
Format:Paperback
Publisher:Pan Macmillan
Published:8th Jun '23
£10.99
This title is due to be published on 8th June, and will be despatched as soon as possible.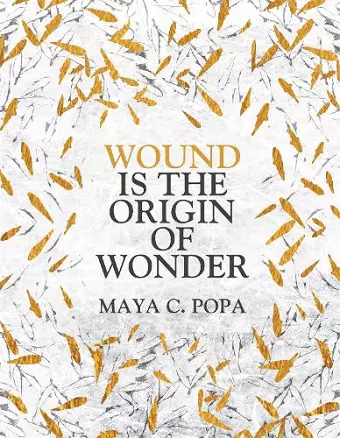 A major new young US poet joins the Picador Poetry imprint.
I can't undo all I have done to myself,
what I have let an appetite for love do to me.

I have wanted all the world, its beauties
and its injuries; some days,
I think that is punishment enough.

Wound is the Origin of Wonder introduces UK readers to the work of a rapidly rising star in American poetry. Maya C. Popa is a naturally gifted poet, lucidly engaged with the most profound questions we face in our collective responsibilities and our relations with each other. She writes with love and wonder of a world poised at a perilous moment: "My children, will they exist by the time / it's irreversible?" she asks. "Will they live / astonished at the thought of ice / not pulled from the mouth of a machine?" Popa takes seriously the poet's duty to pay attention, to seek what Seamus Heaney called "the images... adequate to our predicament". To read her poems is to pause again and again at the precision of imagery, breadth of ideas, and the warmth and generousness of her lyric voice.
Whitman declared 'what I assume you shall assume' and Popa's audacious reply is to transcend deadlock and reveal beauty wherever her gently subversive lyric freely wanders, with phrases freshly minted in lines whose intensity is as impactful and affirmative as lived experience. -- Daljit Nagra
Beautiful, musical, imaginative and blink-back playful poems. A very original voice in real lyric conversation with the self, with the other, with life and the creaturely world. A joy of a book. -- Ruth Padel
Maya C. Popa's new book is an astonishment. In ravishing, formally exploratory poems, Popa wields the lyric like a reparative scalpel, evoking wonder and woundedness in equal measure: "It's plain we didn't see / the future coming', she announces. Searching for a spring that brings renewal, lamenting 'snow / that vanishes with touch', her poems register a unique combination of imperilment and possibility, with imagistic precision one can't forget: 'A faint hiss-that is / your own life now, hurrying / from one light to another.' Wound is the Origin of Wonder reflects to us our own historical moment with unusual clarity, even as its lyric exploration of psychic and social landscapes stand outside of time. This is a book I will return to. -- Meghan O'Rourke
ISBN: 9781035017386
Dimensions: 195mm x 154mm x 10mm
Weight: 156g
96 pages