Proust, Photography, and the Time of Life
Ravaisson, Bergson, and Simmel
Professor Suzanne Guerlac author
Format:Paperback
Publisher:Bloomsbury Publishing PLC
Published:12th Nov '20
£23.99
Available to order, but very limited on stock - if we have issues obtaining a copy, we will let you know.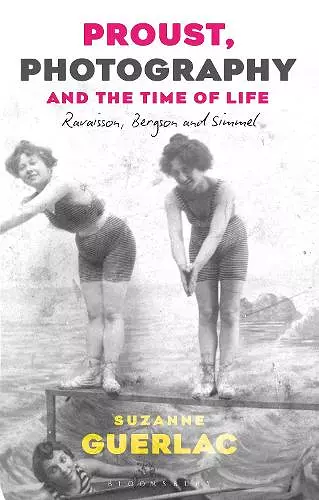 Suzanne Guerlac uses the philosophies of Felix Ravaisson, Henri Bergson and Georg Simmel and visual technologies to argue that Remembrance of Things Past is a vital, not melancholic text that engages with the time of life, instead of being an aesthetic evasion from the world and time itself.
Through an engagement with the philosophies of Proust's contemporaries, Félix Ravaisson, Henri Bergson, and Georg Simmel, Suzanne Guerlac presents an original reading of Remembrance of Things Past (A la recherche du temps perdu). Challenging traditional interpretations, she argues that Proust's magnum opus is not a melancholic text, but one that records the dynamic time of change and the complex vitality of the real. Situating Proust's novel within a modernism of money, and broadening the exploration through references to cultural events and visual technologies (commercial photography, photojournalism, pornography, the regulation of prostitution, the Panama Scandal, and the Dreyfus Affair), this study reveals that Proust's subject is not the esthetic recuperation of loss but rather the adventure of living in time, on both the individual and the social level, at a concrete historical moment.
The sensual prose of Suzanne Guerlac brings new life to Remembrance, grounded in a fascinating history of photographic art and creating unexpected connections with philosophers of the time. In an innovative way, Proust, Photography, and the Time of Life uses images to illustrate how the novelist draws his ideas from places where critics didn't think to look:business cards, blurry snapshots, photographs of coins, pornographic images… An intellectually subversive, and exhilarating book. * Anne Simon, Director of Research, The French National Centre for Scientific Research (CNRS), France *
In this masterful book, Suzanne Guerlac not only challenges how we read Proust (already an ambitious task), she provides a new and convincing framework for understanding photography. Eschewing the by-now conventional references to Barthes and Benjamin, Guerlac asks us to rediscover the overlooked philosophers from Proust's era: Ravaisson, Bergson, and Simmel. * Patrick M. Bray, Associate Professor of French, University College London, UK *
ISBN: 9781350152236
Dimensions: unknown
Weight: 326g
256 pages