Skandar and the Unicorn Thief
The major new hit fantasy series
Format: Paperback
Publisher: Simon & Schuster Ltd
Published: 2nd Feb '23
£7.99
Available, normally delivered within 3-6 days.
This paperback is available in another edition too: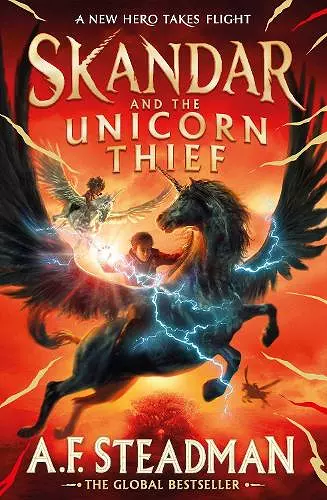 The first book in a new fantasy adventure series for readers aged 9+. Soar into a world where unicorns are real – and they're deadly. They can only be tamed by the rider who hatches them.
 HEROES AND UNICORNS AS YOU'VE NEVER SEEN THEM BEFORE. The first book in the major new hit fantasy adventure series for children age 9+, and fans of Harry Potter, Percy Jackson, Eragon and Amari and the Night Brothers.

WATERSTONES CHILDREN'S BOOK OF THE YEAR 2022
 
'Steadman has a vast imagination, her world-building is a joy, the battle scenes are thrilling and her characters charm.' – The Times Children's Book of the Week
'Pacy, enthralling and epic, a gripping read.' – Louie Stowell, author of Loki and Otherland 
'A dazzling feat of imagination. I loved every breathless moment of it!' – Cat Doyle, author of The Storm Keeper's Island and co-author of Twin Crowns
'The best book I've ever read.' – Patrick, age 10
Thirteen-year-old
Skandar Smith
has only ever wanted to be a unicorn rider. To be one of the lucky few selected to hatch a unicorn. To bond with it for life; to train together and race for glory; to be a hero.  
But just as Skandar's dream is about to come true, things start to take a more dangerous turn than he could ever have imagined. A dark and twisted enemy has stolen the Island's most powerful unicorn – and as the threat grows ever closer, Skandar discovers a secret that could blow apart his world forever . . .  
Get ready for unlikely HEROES, elemental MAGIC, sky battles, ancient secrets, nail-biting races and FEROCIOUS UNICORNS, in this EPIC ADVENTURE series that will have your heart soaring.
Praise for Skandar and the Unicorn Thief: 'My book of the year. Not since Harry Potter have I felt this excited about a series. Readers are sure to be clamouring for the next book. You'll never look at unicorns the same way again, nor will you want to!' – Dominique Valente,
author of the Starfell series  
'Never have unicorns been so ferocious, fearsome and thrilling! A fantastically gripping read!' – Laura Ellen Anderson,...
Pacy, enthralling and epic, a gripping read. -- Louie Stowell * author of Loki and Otherland *
A dazzling feat of imagination. I loved every breathless moment of it! -- Cat Doyle * author of The Storm Keeper's Island and co-author of Twin Crowns *
My book of the year. Not since Harry Potter have I felt this excited about a series. Readers are sure to be clamouring for the next book. You'll never look at unicorns the same way again, nor will you want to! -- Dominique Valente * author of the Starfell series *
Never have unicorns been so ferocious, fearsome and thrilling! A fantastically gripping read! -- Laura Ellen Anderson, author of Amelia Fang
A magnificent book. I raced through it – at turns enthralled, delighted, amazed. It's everything I could have wanted and more. No doubt this book is going to fly. -- Hannah Gold, author of The Last Bear
Skandar and the Unicorn Thief brims with wild adventure, fierce sky battles, elemental magic, ferocious unicorns and a terrifying enemy. Steadman's cinematic writing draws you in from the very first page, creating a hugely compelling, unforgettable read. Endlessly thrilling, unputdownable and utterly unmissable. -- Aisling Fowler, author of Fireborn
A. F. Steadman has created a stunning new world that feels both familiar and fresh, with a cast of characters that will stay with you long after you've finished reading. -- T?lá Okogwu, author of Onyeka and the Academy of the Sun
A fresh new voice brimming with imagination and crackling with excitement. These bloodthirsty unicorns will take you on a ride you'll never forget! -- Benjamin Dean
A fantasy adventure of epic proportions by a superstar author. I loved everything about it from the elemental magic, to the treehouses, and unique unicorn twist. Skandar and the Unicorn Thief is going to be the start of everyone's new favourite series. -- Aisha Bushby
Skandar and the Unicorn Thief takes you on a great adventure from bloodthirsty unicorns to duels in the air. This MG is a must-read and you won't be disappointed. -- Rachel Faturoti
An absolute triumph. I gasped at every chapter . . . It has everything I love in a good book. -- Mel Taylor-Bessent, author of The Christmas Carrolls and Director of Authorfy
SKANDAR soars with magic, adventure, and pulse-pounding fun – the book equivalent of riding a rollercoaster while eating cake with fireworks exploding overhead!'  -- Andy Sagar * author of the Yesterday Crumb series *
Steadman has a vast imagination, her world-building is a joy, the battle scenes are thrilling and her characters charm. * The Times *
ISBN: 9781398502734
Dimensions: 198mm x 130mm x 24mm
Weight: unknown
400 pages