Oh Miriam!
Stories from an Extraordinary Life
Format:Hardback
Publisher:John Murray Press
Published:14th Sep '23
£25.00
Available for immediate dispatch.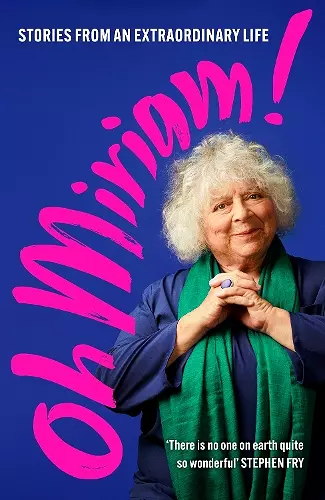 'Oh Miriam! risks the curse of the sequel, and pulls it off . . . A force of nature, a tour de farce. Bold, brave and bright, but also revealing, shocking and touching. Miriam is an icon, a cocksucker - and the star of her show' ROBERT McCRUM, Independent

'Our naughtiest national treasure . . . famously filthy, funny and phlegmatic . . . Oh Miriam! is Margolyes's manifesto for a fulfilled life . . . She loves to tell it straight. And the older she gets, the straighter she tells it' SIMON HATTENSTONE, Guardian

'Irrepressible . . . A life-enhancing rollercoaster of a ride . . . this book is like Margolyes herself - outspoken, ebullient and unexpectedly wise' EMMA LEE-POTTER, Daily Express

'Snortingly funny . . . deliciously unbridled . . . There is something heroic in her unruliness. Let Miriam take the lead and enjoy the show' RHIK SAMADDER, Observer

'Insanely interesting, full of profanity and profundity, Oh Miriam!'s title comes from all the people who have ever exclaimed her name in every tone from horror to hilarity; and her unfiltered personality leaps off the page - honesty, kindness, generosity, sanity, erudition, outspokenness' SUZANNE HARRINGTON, Irish Examiner

'Endearingly eccentric' WOMEN'S WEEKLY

From declaring my love to Vanessa Redgrave to being fed cockroaches by Steve Buscemi, from turnip-based comedy with Blackadder to being farted on by Arnold Schwarzenegger, from Graham Norton's sofa to Alan Cumming's camper van, my life has been (and continues to be) an uproarious adventure.

Oh Miriam! has been such a constant refrain in my life, said in all kinds of tones - laughs, surprised gasps and orgasmic sighs (I'm hoping for all of those from you as you read on!) - that it had to be the title of this book. And with a cast list that stretches from Churchill to DiCaprio, Dahl to Dietrich, Princess Margaret to Maggie Smith, I've so much more to tell you and so much more to say.

My chapters range from 'How to Stay Married' to 'Don't Let the Bastards Get You Down'. Discover how to break the thickest conversational ice; why swearing is actually good for you (though not on the Today programme);...
Praise for This Much is True:

There's never been a memoir so packed with eye-popping, hilarious and shockingly candid stories
* Daily Mail *
Startling, thrillingly outspoken, provocative, potty-mouthed and exhilarating . . .
This Much is True
is never boring. Her personality is so likeable she can only leave you wanting more * Daily Telegraph *
As outrageously entertaining as you'd expect * Daily Express *
Wickedly honest . . . When I was reading this book on a train, a stranger asked if I was OK because I was crying with laughter * Guardian *
An irreverent, straight-talking, riotous romp through an extraordinary life * Sunday Po
ISBN: 9781399803359
Dimensions: 236mm x 156mm x 36mm
Weight: 583g
336 pages