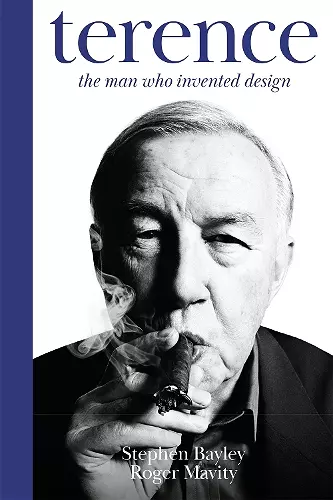 Terence: The Man Who Invented Design offers a candid, authentic insight, much of which has never before been published, into the Terence Conran life and legacy from two collaborators who knew him best.
'Bayley, the author of books on style, design and taste, tells the Habitat story with his customary polycultural panache . . . [Mavity is] good at conveying the experience of being in a room with Conran' Sunday Times

Terence Conran, a visionary and a myopic. A design entrepreneur and imaginative restaurateur, he was a democratising idealist who was also a selfish hedonist. His influence is everywhere in modern Britain from where we live to what we eat.

Terence: The Man Who Invented Design is the most definitive, intimate and revelatory biography of this design legend, by two of his closest collaborators, Roger Mavity and Stephen Bayley. Frank, amusing, indiscreet, sharp, rude, respectful and knowing, it tells Terence's story as it evolved, from before Habitat's humble chicken brick to Bibendum's sophisticated poulet de Bresse, via personal successes and corporate calamities, culminating in that peculiar temple to the religion he invented: The Design Museum. It celebrates Terence's genius and immeasurable impact on British life - and ensures his rightful status as national treasure. Terence: The Man Who Invented Design is the most candid, up-close insight into the man and myth.
Bayley, the author of books on style, design and taste, tells the Habitat story with his customary polycultural panache . . . [Mavity is] good at conveying the experience of being in a room with Conran -- John Walsh * Sunday Times *
Juicy . . . interesting * Evening Standard *
A close reading of one of the most influential men in design history by two of his closest allies and collaborators, Stephen Bayley and Roger Mavity. There is a brutal honesty about the way in which they have painted their late colleague and friend . . . * Independent *
Compelling . . . gossipy and entertaining * Irish Independent *
[A] fascinating personality, captured here - both affectionately and critically . . . A terrific read, bubbling with anecdotes and insight * Daily Mail *
Irresistibly spiky . . . fun . . . rollicking * Spectator *
A must-read * The Tablet *
The contradictions in Terence Conran's character shine through in this profile by a former protege whose book is a mixture of scoresettling and affection * Observer *
It's a masterpiece * Dylan Jones *
ISBN: 9781408715215
Dimensions: 196mm x 126mm x 26mm
Weight: 300g
336 pages