Chief Engineer
The Man Who Built the Brooklyn Bridge
Format:Paperback
Publisher:Bloomsbury Publishing PLC
Published:31st May '18
£10.99
Available to order, but very limited on stock - if we have issues obtaining a copy, we will let you know.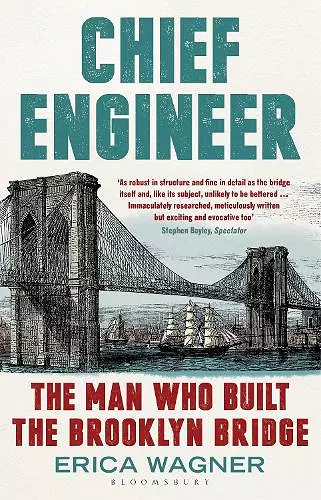 'A classic, as lovingly and meticulously constructed as the bridge itself. It is a triumph of a book' Simon Winchester
A New Statesman Book of the Year for 2017 His father conceived of the Brooklyn Bridge, but it was Washington Roebling who built this iconic feat of human engineering after his father's tragic death. It has stood for more than 130 years and is now as much a part of New York as the Statue of Liberty or the Empire State Building. Yet, as recognisable as the bridge is, its builder is too often forgotten. The Chief Engineer is a brilliant examination of the life of one of America's most distinguished engineers. Roebling's experience as an engineer building bridges in the Union Army during the civil War has never before been documented, and played a central role in the bridge that links Brooklyn and Manhattan. The Brooklyn Bridge took fourteen dramatic years to complete, and the personal story that lay behind that construction is told here for the first time. The Chief Engineer is an engaging portrait of a brilliant and driven man, and of the era in which he lived. Meticulously researched, and written with revealing archival material only recently uncovered, including Washington Roebling's own memoir that was previously thought to be lost to history, in The Chief Engineer Erica Wagner relates the fascinating history of the bridge and its maker.
A classic, as lovingly and meticulously constructed as the bridge itself. It is a triumph of a book -- Simon Winchester
A masterful work of research, revelation and gripping narrative. It brings to pulsating life 19th-century New York and New Jersey and manages to be moving, too -- Neel Mukherjee * New Statesman Books of the Year *
A masterful psychological study about duty and drive -- Books of the Year * Economist *
The Brooklyn Bridge is one of the greatest engineering marvels of all time, as well as a great work of public art. Its chief engineer is equally compelling and Erica Wagner brings him and his complicated world to life -- Ken Burns, director of 'Brooklyn Bridge'
Elegant ... Yet Wagner's cool approach does not reduce the urgency of HUghes's own voice ... She is particularly good at unpacking the poems where Hughes's awareness of Plath's inner world ...plays back into his memory of events -- Elaine Feinstein * Times Literary Supplement on Ariel's Gift *
Wagner is especially sensitive to the movement and shape of the collection as a whole ... this is a generous, respectful study -- Lisa Allardice * New Statesman on 'Ariel's Gift' *
Enthralling and beautifully illustrated … Wagner tells the personal story behind its construction for the first time, drawing on meticulous research and newly uncovered archive material -- Editor's Choice * Bookseller *
Engrossing… Wagner writes detailed, lucid descriptions of the technological advances that made the bridge possible, and the bewilderingly complex planning and calculations Roebling undertook to combine them into a feasible structure… Roebling and his father could be Eugene O'Neill characters … Wagner grounds her fine study of the human side of industrial progress in patient devotion to science and craft * Publishers Weekly *
A sturdy, illuminating biography * Kirkus *
Gripping -- Books of the Year * Herald *
Highly original … Where she unquestionably succeeds is in bringing to life, and very probably bringing to the public's attention for the first time in generations, the name – and rather peculiar life – of a man who deserves his place on the top tier of the pantheon of engineers **** -- Simon Heffer * Sunday Telegraph *
Magnificent -- Philip Hoare * The New Statesmen *
Chief Engineer was made possible by the discovery of an unpublished memoir at Rutgers University and Wagner has mined it well. She tells the story with the thoroughness of Roebling's calculations: the book is as robust in structure and fine in detail as the bridge itself and, like its subject, unlikely to be bettered. It is immaculately researched, meticulously written but exciting and evocative too -- Stephen Bayley * Spectator *
"Chief Engineer" is Ms Wagner's solidly constructed biography of Washington Roebling … It is a book about connection, but also about disconnection – the lifelong divide between Roebling and his father, John Roebling, also a celebrated engineer, and the son's struggle to detach himself from the elder man's influence * Economist *
Erica Wagner honours Washington with a fine, sympathetic biography -- Gavin Weightman * Literary Review *
Warm, meticulous … Chief Engineer makes a solid case for Washington as a great American hero -- Ada Calhoun * Times Literary Supplement *
It's clear that Wagner's book has been a labour of love for its author as much as the bridge was for its engineer: this is a painstakingly researched, and highly engrossing read * Geographical *
ISBN: 9781408837788
Dimensions: unknown
Weight: 340g
384 pages