Farmageddon
The True Cost of Cheap Meat
Format: Paperback
Publisher: Bloomsbury Publishing PLC
Published: 12th Mar '15
£12.99
Available to order, but very limited on stock. If we have issues obtaining a copy, we will let you know..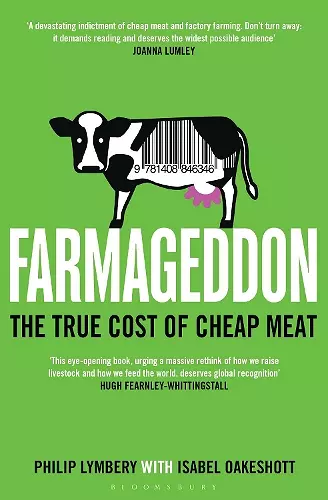 Farmageddon: the quiet revolution of mega-farming that is threatening our countryside, farms and food
Farm animals have been disappearing from our fields as the production of food has become a global industry. We no longer know for certain what is entering the food chain and what we are eating. We are reaching a tipping point as the farming revolution threatens our countryside, health and the quality of our food wherever we live in the world. From the antibiotics routinely given to industrially farmed animals to the chemicals that are killing our insect populations, Farmageddon is a fascinating and terrifying investigative journey behind the closed doors of a runaway industry across the world – from Europe to the USA, from China to Latin America. It is both a wake-up call to change our current food production and eating practices, and an attempt to find a way to a better farming future.
Lymbery brings to this essential subject the perspective of a seasoned campaigner – he is informed enough to be appalled, and moderate enough to persuade us to take responsibility for the system that feeds us * Guardian Book of the Week *
This meaty account makes a distinctive and important contribution, eschewing the narrowly domestic focus of many of its predecessors in favour of a global investigation ... An engaging read - and it also gives a full enough picture of the situation in the UK to preclude any smugness on the part of the British reader. Anyone after a realistic account of our global food chain, and the changes necessary for a sustainable future, will find much to get their teeth into here * Felicity Cloake, New Statesman *
There's no end to techno-idiocy in pursuit of profit. But far more concerning is Lymbery's contention that the wastefulness of feeding human-edible plants and fish to animals is not just absurd but catastrophic. The main reason for hacking down the remaining South American forest is to grow soy to feed the pigs and chickens of China * Evening Standard *
Heartbreaking * Irish Times *
This eye-opening book, urging a massive rethink of how we raise livestock and how we feed the world, deserves global recognition * Hugh Fearnley-Whittingstall *
A devastating indictment of cheap meat and factory farming. Don't turn away: it demands reading and deserves the widest possible audience * Joanna Lumley *
This incredibly important book should be read by anyone who cares about people, the planet, and particularly, animals * Jilly Cooper *
Offers the kind of realistic and compassionate solutions on which our prospects for a truly sustainable world depend * Jonathon Porritt *
ISBN: 9781408846346
Dimensions: unknown
Weight: 356g
426 pages