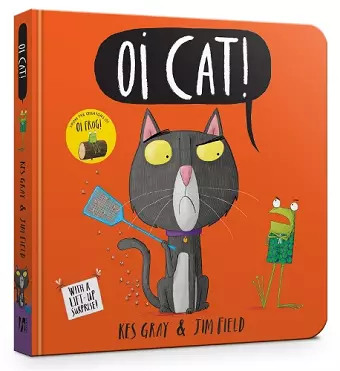 The laughter never ends with Oi Frog and Friends!

Board book edition of the brilliantly funny, rhyming read-aloud picture book, guaranteed to get children giggling!
From the bestselling, multi-award-winning creators of Oi Frog. *Over 1 million copies sold*

According to Frog ...
Cats sit on gnats,
Dogs sit on logs,
Raccoons sit on macaroons,
Armadillos sit on pillows and
Chicks sit on bricks.

But wait! Cat doesn't like sitting on gnats, they keep biting his bottom! Will Frog and Dog help him change the rules?

'This animal rhyming silliness goes from strength to strength.' The Guardian
'Will have children in fits of giggles.' Parents in Touch

Can't get enough? Look out for: Oi Frog, Oi Dog, Oi Duck-billed Platypus, Oi Puppies

Oi Frog and Friends is a top ten bestselling series. Loved by children and parents, the books have won numerous awards, including the Laugh Out Loud Picture Book Award, and been shortlisted for many more!
This animal-rhyming silliness goes from strength-to-strength. * The Guardian *
This joyful rhyming text will have children in fits of giggles, and adults enjoying the cleverness of the text. * Parents in Touch *
Oi Frog! was - and still is - a genius concept. The finale will have your little ones (and grown-up readers) giggling in delight. Truly fabulous. * Wales Daily Post *
It's a brilliant premise that can run and run, and with such appealing illustrations from Jim Field and such clever rhymes from Kes Gray, here's hoping it does... Colourful, witty and silly. * Book Trust *
The combination of Gray's writing and Field's illustrations work wonderfully once again, no matter what Gray fires at Field, he can draw it. Fans of the series will love this outing as it is essentially more of the same, but delve a little deeper and it is playing with the lore of the world. Not many children's books create a universe in which the characters inhabit, but Gray has achieved it. Fans should grab this with abandon, they will especially love the ending. * The Book Bag *
The rhymes in this book are enormously enjoyable and will have children giggling with delight. Another wonderful book to support phonics, rhyme and early reading, but most of all, to hook in young. * The English Association *
ISBN: 9781444944242
Dimensions: 1mm x 1mm x 1mm
Weight: 440g
24 pages