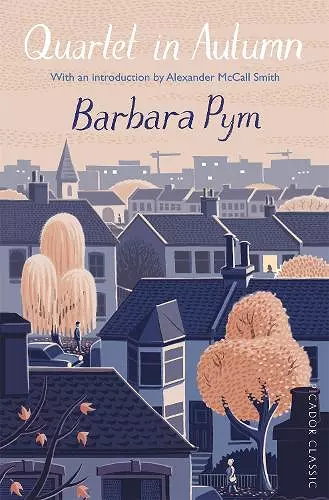 'No novelist brings more telling observation or more gentle pleasure' Jilly Cooper
A classic from one of Britain's most loved and highly acclaimed novelists, and the subject of a critically acclaimed biography, The Adventures of Miss Barbara Pym by Paula Byrne.
With an introduction by Alexander McCall Smith, author of The No. 1 Ladies' Detective Agency series.

One did not drink sherry before the evening, just as one did not read a novel in the morning.

In 1970s London, Edwin, Norman, Letty and Marcia work in the same office and suffer the same problem – loneliness.

Lovingly and with delightful humour, Barbara Pym conducts us through their day-to-day existence: their preoccupations, their irritations, their judgements, and – perhaps most keenly felt – their worries about having somehow missed out on life as post-war Britain shifted around them.

Deliciously, blackly funny and full of obstinate optimism, Quartet in Autumn shows Barbara Pym's sensitive artistry at its most sparkling. Its world is both extraordinary and familiar, revealing the eccentricities of everyday life.
Barbara Pym's unpretentious, subtle, accomplished novels . . . are for me the finest examples of high comedy to have appeared in England during the past 75 years...spectacular * Sunday Times *
Barbara Pym has a sharp eye for the exact nuances of social behaviour * The Times *
The wit and style of a twentieth century Jane Austen * Harpers & Queen *
Very funny and keenly observant of the ridiculous as well as the pathetic in humanity * Financial Times *
A spare masterpiece of loneliness in retirement * Telegraph *
Quartet in Autumn is immeasurably her finest work of fiction * Evening Standard *
An alert miniaturist ... her novels have a distinctive flavour, as instantly recognisable as lapsang tea * Daily Telegraph *
No novelist brings more telling observation or more gentle pleasure. -- Jilly Cooper
Short-listed for Man Booker Prize 1977 (UK)
ISBN: 9781447289616
Dimensions: 196mm x 130mm x 16mm
Weight: 144g
208 pages