This is a special Signed First Edition, and has very limited quantity available
More Perfect Signed First Edition
The Circle meets Inception in this moving exploration of tech and connection.
Format:Hardback
Publisher:Simon & Schuster Ltd
Published:25th May '23
£16.99
Available to order, but very limited on stock - if we have issues obtaining a copy, we will let you know.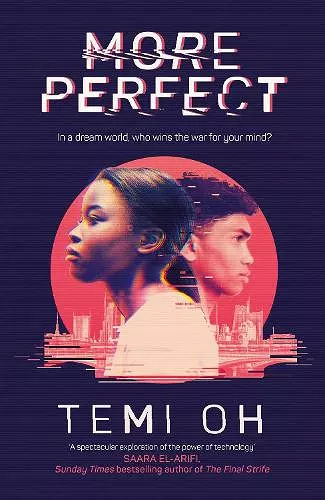 'A spectacular exploration of the power of technology...science fiction at its best' Saara El-Arifi, Sunday Times bestselling author of The Final Strife

"What does it feel like to wake up in the Panopticon? It's like waking up for the first time ever. It's like waking up with a third eye."
When Moremi connects her brain to the Panopticon, a network which allows you to see inside the minds and dreams of others, she believes that it will save her from depression, loneliness and, eventually, death. That is until she meets Orpheus. 
Orpheus was brought up in isolation by a Neo-luddite father. He was raised to question everything, including the government who plan to make the connection procedure compulsory. 
They promise that connecting everyone to the Panopticon will end human suffering and usher in a more perfect world. But when Orpheus and Moremi uncover the dark side of the technology, they find themselves on opposite sides of a radical divide, between those who believe that the Panopticon will save humanity, and those who will stop at nothing to destroy it.
More Perfect is The Circle meets Inception in an immersive and futuristic story that explores love, loneliness and the limits of technology's ability to save a humanity who might not want to be saved. 
Praise for More Perfect

'
A fascinating story that never shies away from the contradictions in human nature'
Guardian
'An unnervingly believable struggle for the future. The story of Moremi and Orpheus has classical antecedents but with a satisfying eye for the future'
Booklist
'Tightly crafted, weaving science fiction, mythology, and more to tell a tale that feels pertinent right now'
Kirkus Reviews
Praise for Do You Dream of Terra Two?
'A major new voice.  Read Temi Oh today. Everybody will be reading her tomorrow'
Stephen Baxter, author of World Engines
'An ambitious 500-page coming-of-age blockbuster . . .Oh is excellent at portraying the aching sense of loss on a one-way trip to the stars' 
Guardian
'A tightly wound, emotional epic that asks important questions . . . This novel is a brilliant, beautiful debut. Reading it will change your heart' 
Christian Kiefer, author of Phantoms
'A spectacular exploration of the power of technology. Upon finishing the final page I was left breathless and bereft. A feat of creativity, written with great heart, this is science fiction at its best' -- Saara El-Arifi, Sunday Times bestselling author of The Final Strife
'In a near-future Britain, a simple operation to insert a chip in the brain allows access to the Panopticon, a network enabling friends to share thoughts and see through each other's eyes. The government is pushing to make it compulsory as a way to end social isolation and prevent crime. For Moremi, suffering from depression and fear of abandonment, it means she need never be alone again; when she falls in love with Orpheus, she can be certain he shares her feelings. But gradually the dark side of the Panopticon, and the coercive ways an authoritarian government will use it, are chillingly revealed. Drawing on ancient Greek myths and modern brain science, this is a plausible, complex vision of the future, a fascinating story that never shies away from the contradictions in human nature' * GUARDIAN *
'An unnervingly believable struggle for the future. The story of Moremi and Orpheus has classical antecedents but with a satisfying eye for the future' * Booklist *
'The depiction of a near-future London easily portrays the diversity of the country—Moremi is British Nigerian, and Orpheus is mixed race—and deftly underscores the inequalities and problems that are still present. While the pacing leaves time for the reader to sink into emotions, the plotting is tightly crafted, weaving science fiction, mythology, and more to tell a tale that feels pertinent right now. An emotional tale exploring light and dark and the gray areas in change and progress' * Kirkus Reviews *
ISBN: 9781471171284-SF
Dimensions: 243mm x 165mm x 43mm
Weight: 772g
592 pages