More than Love
Format:Hardback
Publisher:Simon & Schuster Ltd
Published:14th Jul '20
£20.00
Available to order, but very limited on stock - if we have issues obtaining a copy, we will let you know.
This hardback is available in another edition too: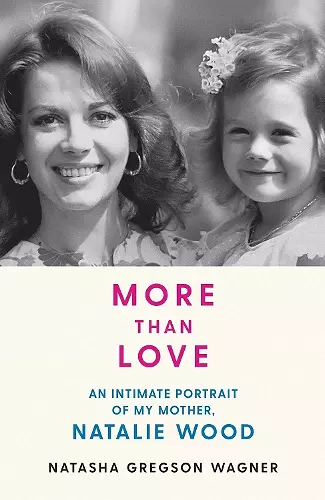 More Than Love is a memoir of loss, grief, and coming of age, set amid Hollywood glamour and royalty, by Natasha Gregson Wagner, the oldest daughter of Natalie Wood and her second husband Richard Gregson. Beginning with the night Natalie Wood went sailing on the family boat with her husband Robert Wagner off the coast of Catalina and never returned, we meet the young Natasha at the age of 11, hearing the news of her mother's disappearance on the radio while having a sleepover at a friend's house. From this turning point of profound and shattering loss, Natasha stretches back to tell the story of her cosseted childhood in a warm, bustling family where her mother loved to decorate, entertain, keep ducks in the backyard, and often overprotected her daughters.
 
An inside look at Natalie's classic movies—Miracle on 34th Street, Rebel without a Cause, Splendour in the Grass, West Side Story and Bob and Ted and Carol and Alice, among others—More Than  Love also offers a riveting, first-hand portrait of what it is like to experience a Hollywood childhood, where Elia Kazan, known as Gadge, for his love of gadgets, is lounging by the pool, Ruth Gordon is your godmother, and Josh Evans, the son of Ali MacGraw, is your first boyfriend.
 
As Natasha steps back into the past, looking through the carefully preserved archive of her mother's letters, notes, and photographs, and comes to terms with her grief, a vivid and magnetic portrait of Natalie Wood emerges —the child star, the young actress, the teen idol, the young wife, mother and eventual hostess extraordinaire. Along the way Natasha comes to terms with her mother's legacy and her own loss: making her peace, having her own daughter, and forging a strong and independent sense of self.
 
ISBN: 9781471195600
Dimensions: 234mm x 153mm x 26mm
Weight: unknown
304 pages