Barbarian Days
A Surfing Life
Format:Paperback
Publisher:Little, Brown Book Group
Published:10th May '16
£10.99
Available for immediate dispatch.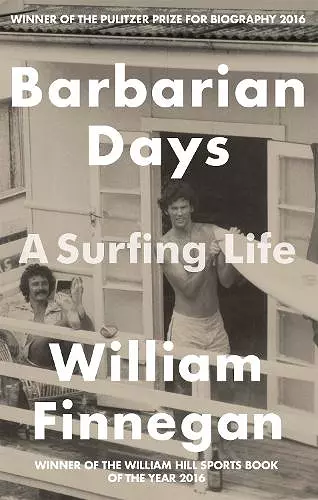 A deeply rendered self-portrait of a lifelong surfer by the acclaimed New Yorker writer
Winner of the Pulitzer Price and William Hill Sports Book of the Year: Barbarian Days is a deeply rendered self-portrait of a lifelong surfer looking for transcendence 'that recalls early James Salter' (Geoff Dyer, Observer)

Surfing only looks like a sport. To devotees, it is something else entirely: a beautiful addiction, a mental and physical study, a passionate way of life.

New Yorker writer William Finnegan first started surfing as a young boy in California and Hawaii. Barbarian Days is his immersive memoir of a life spent travelling the world chasing waves through the South Pacific, Australia, Asia, Africa and beyond. Finnegan describes the edgy yet enduring brotherhood forged among the swell of the surf; and recalling his own apprenticeship to the world's most famous and challenging waves, he considers the intense relationship formed between man, board and water.

Barbarian Days is an old-school adventure story, a social history, an extraordinary exploration of one man's gradual mastering of an exacting and little-understood art. It is a memoir of dangerous obsession and enchantment.

'Reading this guy on the subject of waves and water is like reading Hemingway on bullfighting; William Burroughs on controlled substances; Updike on adulterya coming-of-age story, seen through the gloss resin coat of a surfboard' Sports Illustrated
A surfer's tale of his quest for self-transcendence is a masterpiece that recalls early James Salter * Geoff Dyer, the Observer *
I don't know anything about surfing, but I was gripped by the intensity of his language, never mind the thrilling recklessness of his behaviour in the waves * Olivia Laing, Guardian Best Holiday Reads 2015 *
There are too many breathtaking, original things in Barbarian Days to do more than mention here - observations about surfing that have simply never been made before, or certainly never so well. But a particularly remarkable feature of Barbarian Days is the generous yet unsparing portraits of competitive surf friendships that make up a major share of the narrative * New York Times *
Nothing I've read so accurately describes the feeling of being stoked or the despair of being held under. But also because while it is a book about 'A Surfing Life' - as the subtitle states - it's also about a writer's life and, even more generally, a quester's life, more carefully observed and precisely rendered than any I've read in a long time * LA Times *
Surfing is Topic A here, but it inevitably connects with politics (when Mr. Finnegan taught in Cape Town, South Africa, in 1981, students boycotted his classes to protest apartheid), environmental issues (he sees great surf spots both created and destroyed by human enterprise) and much more. * New York Times, Cool Beach Books for Hot Summer Days *
Reading this guy on the subject of waves and water is like reading Hemingway on bullfighting; William Burroughs on controlled substances; Updike on adultery. . . . a coming-of-age story, seen through the gloss resin coat of a surfboard * Sports Illustrated *
For pure sensation, pick up New Yorker writer William Finnegan's memories of the beach, Barbarian Days: A Surfing Life. Just try and keep the sand out of your book . . . and out of your sandwich. * Publishers Weekly, Best Summer Books 2015 *
Luscious * Ed Caesar, Guardian *
A far-ranging, unique and bewitching memoir ... You don't need to have surfed to enjoy this book. * Literary Review *
How many ways can you describe a wave? You'll never get tired of watching Finnegan do it. A staff writer at The New Yorker, he leads a counterlife as an obsessive surfer, traveling around the world, throwing his vulnerable, merely human body into line after line of waves in search of transient moments of grace . . . It's an occupation that has never before been described with this tenderness and deftness * TIME Magazine, Top 10 Nonfiction Books of 2015 *
The kind of book that makes you squirm in your seaton the subway, gaze out the window at work, and Google Map the quickest route to the beach. In other words, it is, like Jon Krakauer's Into the Wild, a semi-dangerous book, one that persuades young men . . . to trade in their office jobs in order to roam the world, to feel the ocean's power, and chase the waves * The Paris Review *
Terrific . . . Elegantly written and structured, it's a riveting adventure story, an intellectual autobiography, and a restless, searching meditation on love, friendship and family . . . A writer of rare subtlety and observational gifts, Finnegan explores every aspect of the sport - its mechanics and intoxicating thrills, its culture and arcane tribal codes - in a way that should resonate with surfers and non-surfers alike. His descriptions of some of the world's most powerful and unforgiving waves are hauntingly beautiful . . .Finnegan displays an honesty that is evident throughout the book, parts of which have a searing, unvarnished intensity * Washington Post *

Overflowing with vivid descriptions of waves caught and waves missed, of disappointments and ecstasies and gargantuan curling tubes that encircle riders like cathedrals of pure stained glass . . . These paragraphs, with their mix of personal remembrance and subcultural taxonomies, tend to be as elegant and pellucid as the breakers they immortalize . . . This memoir is one you can ride all the way to shore
* Entertainment Weekly *
Without a doubt, the finest surf book I've ever read
. . . All this technical mastery and precise description goes hand in hand with an unabashed, infectious earnestness. Finnegan has certainly written a surfing book for surfers, but on a more fundamental level,
Barbarian Days
offers a clear eyed vision of American boyhood. Like Jon Krakauer's
Into the Wild
, it is a sympathetic examination of what happens when literary ideas of freedom and purity take hold of a young mind and fling his body out into the far reaches of the world * New York Times Magazine *
Which is precisely what makes the propulsive precision of Finnegan's writing so surprising and revelatory . . . Finnegan's treatment of surfing never feels like performance. Through the
sheer intensity
of his descriptive powers and the undeniable ways in which surfing has shaped his life,
Barbarian Days
is an
utterly convincing
study in the joy of treating seriously an unserious thing . . . As Finnegan demonstrates, surfing, like good writing, is an act of vigilant noticing * The New York Review of Books *
Gorgeously written and intensely felt
. . . With Mr Finnegan's bravura memoir, the surfing bookshelf is dramatically enriched. It's not only a volume for followers of the sport. Non-surfers, too, will be treated to a travelogue head-scratchingly rich in obscure,
sharply observed
destinations . . . Dare I say that we all need MrFinnegan...as a role model for a life fully, thrillingly, lived * Wall Street Journal *
Irresistible
* O, The Oprah Magazine *
It's always fabulous when
an incredible writer
happens to also have a memoir-worthy life;
Barbarian Days
bodes well * GQ.com *
A dream of a book by
a masterful writer
long immersed in surfing culture. Finnegan recaptures the waves lost and found, the euphoria, the danger . . . the allure * BBC.com *
A
skillful, masterful
memoir . . . it's a book about surfing, of course, but it's not just for surfers. Finnegan's skill sees him trace memories and emotions with honesty. * The Skinny *
Barbarian Days
is
one of the few surfing books for a wider audience
. * Guardian *
William Finnegan's
absorbing
surfing memoir,
Barbarian Days
will have you studying the ocean with new eyes * Anthony Doerr, Pulitzer Prize-winning author of All the Light We Cannot See *
An astounding book.
* Matt Haig *
Winner of Pulitzer Prize for Biography 2016 (UK)
Short-listed for Cross Sports Book Awards General Outstanding Sports Writing 2016 (UK)
Short-listed for William Hill Sports Book of the Year Award 2016 (UK)
ISBN: 9781472151414
Dimensions: 195mm x 130mm x 34mm
Weight: 400g
512 pages