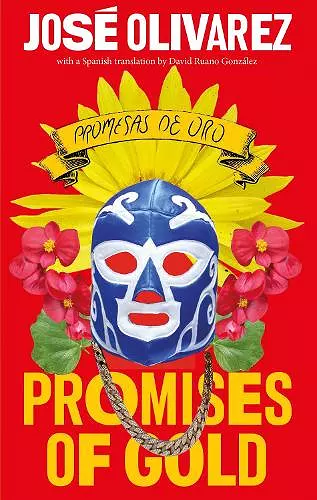 A groundbreaking collection of poems by rising star, Mexican-American poet José Olivarez, addressing how every kind of love - self love, brotherly love, romantic love, love of family and culture - is birthed, shaped, and complicated by invisible forces, in a dual language edition with Spanish translation by poet David Ruano
LONGLISTED FOR THE 2023 NATIONAL BOOK AWARD

'[Promises of Gold] has put Olivarez at the forefront of not only first-generation poetics, but of all poetry. This one here is for us -- the ones who hide garden shears in their poems' Javier Zamora

Love is at the heart of everything we do, and yet it is often mishandled, misrepresented, or narrowly defined. In the words of José Olivarez: 'How many bad lovers have gotten poems? How many crushes? No disrespect to romantic love -- but what about our friends? Those homies who show up when the romance ends to help you heal your heart. Those homies who are there all along -- cheering for us and reminding us that love is abundant.'

Written in English and combined with a Spanish translation by poet David Ruano, Promises of Gold explores many forms of love and how 'a promise made isn't always a promise kept,' as Olivarez lays bare the ways in which 'love is complicated by forces larger than our hearts.' It is an attempt to reckon with colonial legacy and the reality of what those promises and dreams have borne out for Mexican descendants. 'I wrote this book to imagine and document an ongoing practice of healing,' writes Olivarez, 'healing that requires me to show up for myself, my community, my friends, my family, and my loves every day.'

Whether readers enter this collection in English or Spanish, these extraordinary poems, written with empathy and humour, are sure to be cherished for their illuminations of all the rhythms of life -- and love.
"My people I am poly with the tortillas" might be my favorite single sentence I have ever read in a poem. Get the book for that line alone. Promises of Gold is a heartfelt and hilarious series of odes to the large and small joys of life. It is also a battle rap and a clapback to all the death-making institutions we live under at every level. I could call this book soft and I would only be telling a half-truth. This is a collection that delights in the softness of every kind of love from familial to homie to culinary to romantic. But this is also a book that is hard on colonizers, and cruel billionaires, and capitalist exploitation. This book shines bright as the gold that got us into all this colonial mess. -- Nate Marshall, author of FINNA
Visceral and moving -- Kate Baer, #1 New York Times Bestselling author of What Kind of Woman
In his preface, José Olivarez writes: "despite my best efforts, I am who I am". And what we see unfold through the book, who we see José is through his writing, is someone who is charting a journey of complicated love - sometimes specific, sometimes funny, sometimes cutting, sometimes bitter, sometimes angry, sometimes soft, sometimes yearning - but always, love. A love built in honesty, a love built without myth or fable. This book pushes us to think beyond love as we've known it, as the overly romantic always lighthearted love that's been sold to us for generations. Instead, it shows us a map into loving at the end of the world, in isolation, in fear, when our backs are cornered to the wall. And still then, Olivarez chooses to love, to hope, to dream. This book is a necessary dream, one that is a gift to the world -- Fatimah Asghar, author of When They Come For Us
The truth is: Technically, I don't understand poetry. I never have. I miss everything in it. It's a language I can't process. And, for me anyway, that's what makes Jose special. Because when he writes poetry, I don't need to understand it - at least, not in the traditional sense - because I FEEL it. I feel his words under my fingertips like velvet. I feel his words in my chest like I'm looking at a painting that moves me in a way I can't fully explain. And, again, for me anyway, that's more important -- Shea Serrano , NYT Bestselling author of The Rap Year Book
Out of Calumet City, weighing in at around 160 plus Promises of Gold, in both English and Spanish, the one that's poly with his tortillas, the masterfully playful, the uniquely imaginative, the one that bets everything he has on his people, the one, the only, José Olivarez is the undisputed Mexican champ. The cypher that straddles between dólares and dolores, this quintessential second collection has put Olivarez at the forefront of not only first generation poetics, but of all poetry, in and outside the stringent confines of academia. This one here is for us -- the ones who hide garden shears in their poems -- Javier Zamora, author of The New York Times bestselling memoir, Solito
ISBN: 9781472157744
Dimensions: 224mm x 148mm x 32mm
Weight: 440g
320 pages