You Are Not the Man You Are Supposed to Be
Into the Chaos of Modern Masculinity
Format:Hardback
Publisher:Bloomsbury Publishing PLC
Published:18th Feb '21
£20.00
Available to order, but very limited on stock - if we have issues obtaining a copy, we will let you know.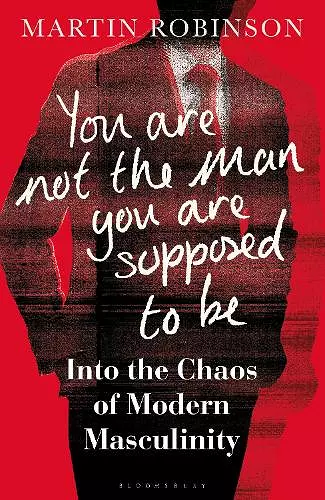 Book of Man founder and editor Martin Robinson sets out on a quest to explore the state of modern masculinity
'A sharp but sensitive exploration of the pitfalls of masculinity' – Jeffrey Boakye 'A wake up call to men' – JJ Bola 'Wasn't it time to pull apart what makes us men – to find some answers for myself, and perhaps for others too?' In this searingly honest book we join Martin Robinson – magazine journalist and founder of men's media site The Book of Man – on a journey into the chaos of modern masculinity. Along the way, Martin visits mental health groups and prisons, talks to sex activists, evolutionary psychologists and musicians, works out with Special Forces soldiers, watches cage fights, has a drag make-over and subjects himself to an 'intimacy jam' – all in his quest to unpeel the onion-like layers that make up the modern man. And yes, tears are shed. Not cool, solitary tears either. Reflecting on his reporting and discussions with experts, Martin also examines some of the most pressing concerns facing men today, including violence, suicide and the spectre of toxic masculinity. He explores how men are defining themselves beyond traditional male stereotypes; whether they can learn to expand the limits of what society expects; how to combat the male mental health epidemic; and why men need a new blueprint to live by in a society transformed by the Digital Age, new attitudes in gender relations and a global pandemic. Crammed full of interviews with the likes of Jason Fox from SAS: Who Dares Wins, Jason Williamson of Sleaford Mods, musician Professor Green, authors Poorna Bell and Thomas Page McBee, poet Derek Owusu and Olympic gold-winning boxer Luke Campbell MBE, You Are Not the Man You Are Supposed to Be portrays a nation of men struggling to make sense of this strange new world, ultimately seeking out powerful new ways for them to be.
A sharp but sensitive exploration of the pitfalls of masculinity. Martin writes with an openness that draws you in, unpacking the masculinity myths that we need to tackle, right now, with insight. * Jeffrey Boakye, author of Hold Tight: Black Masculinity, Millennials, and the Meaning of Grime *
A very important book. A wake up call to men. * JJ Bola, author of No Place to Call Home and Mask Off: Masculinity Redefined *
I laughed, I cried, I learned – a beautifully written, honest, vital read. Funny as f**k yet utterly poignant and precise. * Poorna Bell, author and journalist *
Amusing, insightful and well-informed * The Herald *
[A] bright and breezy tour of 21st-century maleness, which mixes on-the-spot reporting with talkinghead interviews … Engaging * Metro *
Masculinity is under the microscope like never before. Good. It's not in crisis, but it is changing. Books like this show why. * Evening Standard *
ISBN: 9781472971272
Dimensions: unknown
Weight: 494g
240 pages