Mexico: The World Vegetarian
Format:Hardback
Publisher:Bloomsbury Publishing PLC
Published:21st Jan '21
£20.00
Available to order, but very limited on stock - if we have issues obtaining a copy, we will let you know.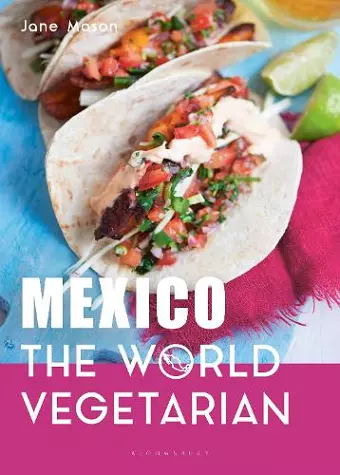 In this bright, bold and colourful book, Jane Mason invites you to a true Mexican feast – all 100% veggie!
Vibrant, bright and utterly alive – no other country is quite like Mexico. And the food is unique, complex and unreservedly delicious. To the uninitiated, Mexican food is deceptively simple, but these pages uncover the diverse recipes bound up in the history of the country and its cultural heritage, as Jane Mason guides you through the essentials of vegetarian Mexican cuisine. With three different coast lines, seven climate zones and far ranging altitudes, the sheer variety of plant life in Mexico is outstanding, and perfect for a range of vegetarian recipes. Some of the world's most favourite ingredients originate in this incredible country – from sweet potatoes, vanilla and tomatoes to beans, squash and avocados – and this book is packed full of recipes that make the most of these stunning ingredients. Each and every dish has a subtle balance of flavours and textures, and there is much to discover beyond tacos, burritos and guacamole. Delve into this mouth-watering book and uncover recipes such as: broad bean and cactus soup poblano peppers stuffed with cheese tamales with refried beans albondigas in a red chipotle sauce And not forgetting the ultimate recipe for basic beans and a vast array of salsas.
ISBN: 9781472974969
Dimensions: unknown
Weight: 628g
176 pages