The Happy Me Project: The no-nonsense guide to self-development
Winner of the Health & Wellbeing Book Award 2022
Format:Paperback
Publisher:Bloomsbury Publishing PLC
Published:9th Jun '22
£12.99
Available to order, but very limited on stock - if we have issues obtaining a copy, we will let you know.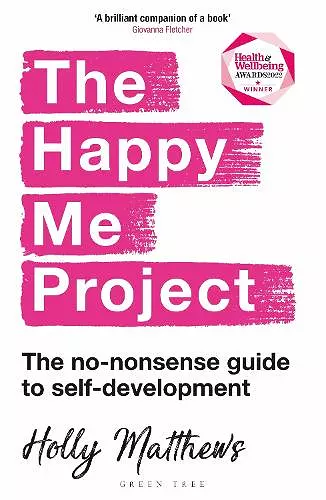 A no-nonsense guide to personal development, with real-life advice, for the sceptics of self-improvement
WINNER OF THE HEALTH & WELLBEING BOOK AWARD 2022'Proper down-to-earth advice that will see you through times of trouble.' -Lorraine Kelly 'A brilliant companion of a book. So many takeaways and golden nuggets of advice' - Giovanna Fletcher'Theperfect go-to if we ever catch ourselves at a low moment or in need of inspiration' - Jeff Brazier Everyone can access happiness – it's a case of learning how. Holly Matthews is on a mission to make your life better, and she's keeping it simple. No BS. No fluff. The Happy Me Project is 60 short chapters of straight-to-the-point advice, structured for our time-poor modern world, and packed with practical tips on ways to fill your life with more joy. Whatever you're facing, this book is for you, and Holly will be cheering you along every step of the way: - Do you find yourself saying 'yes' when you mean 'hell no'? - Are you bored of your daily routine and ready to mix it up? - Perhaps something awful has happened and you need support working out your next steps. Holly draws on real-life examples and her own stories of triumph over adversity – from growing up in the public eye to becoming a widow and single mum at 32 – to offer hope and confidence that you, too, can navigate the ups and downs of life, and enjoy yourself along the way.
What I love about what you do is that it's not hippy-dippy nonsense – you're a northern girl, it's proper down-to-earth advice that will see you through times of trouble. * Lorraine Kelly *
A brilliant companion of a book that makes you stop and think about who you are, what you actually want and how to be the best you. So many takeaways and golden nuggets of advice from these pages' * Giovanna Fletcher *
The Happy Me Project is theperfect go-to if we ever catch ourselves at a low moment or in need of inspiration. Holly's practical, step-by-step guide gives direction and clarity delivered in an accessible way. * Jeff Brazier *
The Happy Me Project gives me simple ways to get maximum effect. My go-to when I need a reminder of what I need to pull myself from the dark times. It's just so good. Thank you, Holly, for writing this book, it will help many, many people. * Michelle Heaton *
Holly is the most wonderful human with such rich life experience for someone her age. I've had the joy of being one of her clients and this book is her through and through. I hear her voice in every page and her life lessons are so valuable, poignant and easy to take on board. I've recommended this book to every person I know! We thank you Holly, the book we all knew we needed! * Becky Hill, BRIT Award winning artist *
Holly offers such straight forward support with her unique blend of blunt honesty with no judgement. She never asks you to push down difficult emotions and gives simple steps to move to towards a happier state of mind. * Stacey Heale *
Human, relatable and powerfully uplifting. Zero fluff, just pithy wisdom and actionable tips * Suzy Reading, author and psychologist *
Holly's book is a book we all should read! The amount of lightbulb moments you will get from reading this book are life changing! Success to me is leading a happy life, and The Happy Me Project really helps you to see patterns in our lives that throw us off! * Jess Impiazzi *
Practical, inspiring, honest and a total joy to read, The Happy Me Project is as comforting and calming as a perfectly made cup of tea, the kind of book that makes you feel it's all going to be ok in the end. * Emily Dean *
ISBN: 9781472986610
Dimensions: unknown
Weight: unknown
272 pages