How To Read Water
Clues & Patterns from Puddles to the Sea
Format:Paperback
Publisher:Hodder & Stoughton
Published:6th Apr '17
£10.99
Available for dispatch around 25th April 2024.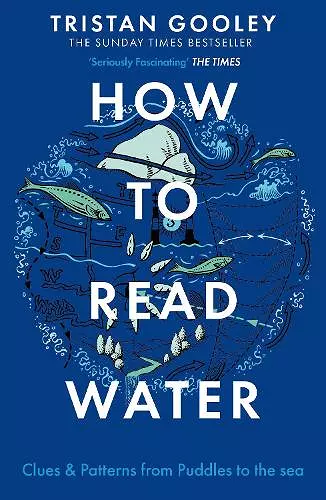 'A wonderful read... It's one of those books that gives you a new pair of eyes to see the world in a different way. I've been transported by it... You'll love every minute, the writing is absolutely beautiful.' - Hugh Fearnley-Whittingstall

From the bestselling author of THE WALKER'S GUIDE TO OUTDOOR CLUES AND SIGNS

A must-have book for walkers, sailors, swimmers, anglers and everyone interested in the natural world, in How To Read Water, Natural Navigator Tristan Gooley shares knowledge, skills, tips and useful observations to help you enjoy the landscape around you and learn about the magic of the outdoors from your living room.

Includes over 700 clues, signs and patterns. From wild swimming in Sussex to wayfinding in Oman, via the icy mysteries of the Arctic, Tristan Gooley draws on his own pioneering journeys to reveal the secrets of ponds, puddles, rivers, oceans and more to show us all the skills we need to read the water around us.
This inspired guide to water in all its forms will make a big splash...Gooley has done his subject proud - this is seriously fascinating stuff. * The Times *
This study of the behaviour of rivers, lakes and seas brims over with astonishing facts... His observational skills can be breathtaking... Gooley's infectious delight in knowledge translates into a gleeful hoarding of words... The joy of these words and phenomena is that they make you yearn to observe them in the real world... Gooley even manages to explain tides coherently and excitingly in just 14 pages, which is quite some feat, given that they are a lot more complicated than being a mere effect of the moon's gravity. * The Sunday Times *
Quite apart from being well written and an enjoyable read, there is plenty in the book that is revelatory. * The Royal Institute of Navigation *
He writes with passion, humour and clarity and engages so deeply with the tributaries of inquiry that reading it feels as exhilarating as being towed by a dolphin...There's so much here that I can't do it justice; chapters on water at night; currents and tides; reading waves; the coast. This is an absolute gem of a book. A must-have for anyone who loves the water. * The Outdoor Swimming Society *
The goal of the author is to have his readers never look at water the same way after reading this book. He has certainly achieved his objective and I doubt I will now ever be able to walk past a lake or even a pond without checking for surface patterns. * thebookbag.co.uk *
The quirks and habits and secrets of good old H2O were crying out to have a book written about them. That said, it had to be written by the right person... Fortunately, the job went to Tristan Gooley... His tales recount wisdom gathered on the ground (literally), often by trial and error, and his joy at discovering something almost makes you feel you did the work yourself... The book doesn't just cover the rural sections of the waterfront: urban dwellers get a look-in too. * The Spectator *
Gooley, who has single-handedly been reviving natural navigation in this age of GPS, has the birdwatching skills of Bill Oddie and the deductive powers of Sherlock Holmes. He can make you feel that you've spent half your life walking about with your eyes only half-open. He does it again with this fascinating guide to watching and interpreting water, everywhere from the garden pond to the Pacific. * Telegraph *
Tristan Gooley's lovely and exhaustively researched book...if you like water, as I do, you will learn a lot. * Wall Street Journal *
Anyone who spends time in, on, or by, water - whether at the helm of a narrowboat or merely playing Poohsticks with grandkids - will benefit from some of the extraordinary insights in this book. * Waterways World *
ISBN: 9781473615229
Dimensions: 196mm x 131mm x 25mm
Weight: 296g
384 pages