The Fatal Tree
Format:Paperback
Publisher:Hodder & Stoughton
Published:7th Sep '17
£9.99
Available to order, but very limited on stock - if we have issues obtaining a copy, we will let you know.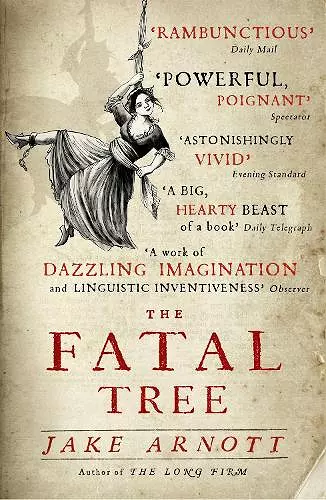 'A work of dazzling imagination and linguistic inventiveness' Observer

Newgate Gaol, 1726. An anonymous writer sets down the words of Edgworth Bess as she confides the adventures and misfortunes that led her all too soon to the judgement of London:

Cruelly deceived, Bess is cast out onto the streets of the wicked city - and by nightfall her ruin is already certain. What matters now is her survival of it.

In that dangerous underworld known in thieves' cant as Romeville, she will learn new tricks and trades. And all begins with her fateful meeting, that very first night, with the corrupt thief-taker general Jonathan Wild.

But it is the infamous gaol-breaker, Jack Sheppard, who will lay Romeville at her feet . . .

Drawing on the true story that mesmerised eighteenth-century society, the acclaimed author of The Long Firm delivers a tour de force: a riveting, artful tale of crime and rough justice, love and betrayal. Rich in the street slang of the era, it vividly conjures up a murky world of illicit dens and molly-houses; a world where life was lived on the edge, in the shadow of that fatal tree - the gallows.
A work of dazzling imagination and linguistic inventiveness -- Alex Preston * Observer *
A rambunctious narrative of venery, theft, death and a devil-may-care braggadocio, its doomed love story undercuts and counterpoints the swagger with a touching melancholy. -- Elizabeth Buchan * Daily Mail *
Jake Arnott, who is probably best known for excellent novels such as The Long Firm about London gangsters in the 1960s, has done much more than update the work of his 18th-century predecessors. Unlike them, he shows the citizens of Romeville as people, not as folk heroes or bogeymen . . . Arnott explores what poor Bess calls 'the felony of love', a crime that is not on the statute book. The result is powerful, poignant and readable. -- Andrew Taylor * Spectator *
Jack's awkward courtship of Bess is a highlight of the book - Arnott's best so far - and genuinely moving . . . an astonishingly vivid act of ventriloquy that breathes life into infamous corpses -- Mark Sanderson * Evening Standard *
The narrative is woven through with vividly portrayed characters, from Bess and Jack themselves to the superbly realised, wonderfully named Punk Alice and Poll Maggot, the transvestite Princess Seraphina; and the mixed-race heavy, Blueskin. Arnott delights too in the secret language of thieves -- Wyl Menmuir * Observer *

Bawdy and rich with vivid evocations of the past . . . The Fatal Tree is Arnott on beguiling form, with the libidinous Bess a wonderfully multifaceted character. Who would have thought that a cult crime writer would become the Daniel Defoe of our day?
-- Barry Forshaw * i News *
A seductive, cunning tale of crime, punishment and love among the thieves, prostitutes and charlatans of 1720's London. Laced with vibrant detail and deliciously evocative period language, Arnott's atmospheric novel is a Hogarth print come to life . . . With a cast of delightfully convincing characters and lines that are reminiscent of Dickens or Wilde, Arnott has triumphantly breathed life into history - and the result is glorious. * Attitude *
A dazzling mix of fact and fiction . . . the Hogarthian tale of a Harlot's Progress -- Jackie McGlone * Sunday Herald *
[Arnott's] flair for noir - corruption, menace and the psychosexuality of gangsters - transposes well into "Romeville" . . . He gifts his prig-nappers and pot-valiant bawds the kind of one-liners Moll Flanders would have rejoiced in. -- Hermione Eyre * Guardian *
ISBN: 9781473637764
Dimensions: 196mm x 128mm x 28mm
Weight: 248g
352 pages