The Outsider
The No.1 Sunday Times Bestseller
Format:Paperback
Publisher:Hodder & Stoughton
Published:2nd May '19
£10.99
Available for immediate dispatch.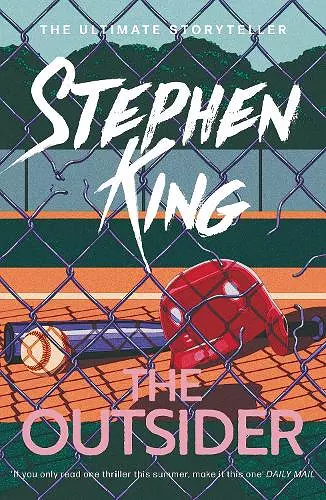 King's crime thriller featuring Holly Gibney and Detective Ralph Anderson is now released with a stunning new cover look.

Now you see him. Now you don't.

A horrifying crime.

Water-tight evidence points to a single suspect.

Expect he was seventy miles away, with an iron-clad alibi.

Detective Anderson sets out to investigate the impossible: how can the suspect have been both at the scene of the crime and in another town?
The Outsider gives King fans exactly what they want at the same time as cramming in new ideas, proving the least surprising thing of all: that his novels are as strong as they ever were * Guardian *
The Outsider gives King fans exactly what they want at the same time as cramming in new ideas, proving the least surprising thing of all: that his novels are as strong as they ever were * Guardian *
A crime masterpiece that has you gripped throughout * Dublin Evening Echo *
A crime masterpiece that has you gripped throughout * Dublin Evening Echo *
Nerve-shreddingly brilliant * Daily Express *
Nerve-shreddingly brilliant * Daily Express *
If you read only one thriller this summer, make it this one * Daily Mail *
If you read only one thriller this summer, make it this one * Daily Mail *
King's blend of supernatural crime makes for a taut, clever read that will keep you guessing until the end * The Sun *
King's blend of supernatural crime makes for a taut, clever read that will keep you guessing until the end * The Sun *
This police procedural morphs into a gripping, chilling supernatural thriller * Daily Record *
This police procedural morphs into a gripping, chilling supernatural thriller * Daily Record *
King is arguably as much an American icon as the '68 Fastback or a classic red and white Plymouth Fury. All of these glories are on full display in his latest mystery-horror hybrid...you're in for one hell of a ride' * The Washington Post *
King is arguably as much an American icon as the '68 Fastback or a classic red and white Plymouth Fury. All of these glories are on full display in his latest mystery-horror hybrid...you're in for one hell of a ride' * The Washington Post *
King pulls back the layers of the everyday to show just how dangerous and threatening the ordinary world we live in case be * Independent *
King pulls back the layers of the everyday to show just how dangerous and threatening the ordinary world we live in case be * Independent *
Compulsive entertainment * Mail on Sunday *
Compulsive entertainment * Mail on Sunday *
So shout it from the rooftops: This new take on the old conundrum of how a man can be in two places at once is sensationally good * Sunday Express *
So shout it from the rooftops: This new take on the old conundrum of how a man can be in two places at once is sensationally good * Sunday Express *
The Outsider is a crime masterpiece * Belfast Telegraph *
The Outsider is a crime masterpiece * Belfast Telegraph *
This is one of those books where you find yourself rationing the number of pages you read each night to eke it out. A very good read indeed * The Afterword.co.uk *
This is one of those books where you find yourself rationing the number of pages you read each night to eke it out. A very good read indeed * The Afterword.co.uk *
Mixing up genres and multiplying the surprises, The Outsider did keep me in suspense and I think that it is a really great King! * Club.StephenKing *
Mixing up genres and multiplying the surprises, The Outsider did keep me in suspense and I think that it is a really great King! * Club.StephenKing *
This chilling novel starts as a police procedural before morphing into the sort of supernatural thriller King is best known for . . . there is violence simmering below the surface of this tightly plotted yarn. * Daily Mirror *
This chilling novel starts as a police procedural before morphing into the sort of supernatural thriller King is best known for . . . there is violence simmering below the surface of this tightly plotted yarn. * Daily Mirror *
ISBN: 9781473676398
Dimensions: 196mm x 126mm x 34mm
Weight: 340g
496 pages