Happier Here and Now
The restorative power of life's simple pleasures
Format:Hardback
Publisher:Hodder & Stoughton
Published:16th May '19
£12.99
Available to order, but very limited on stock - if we have issues obtaining a copy, we will let you know.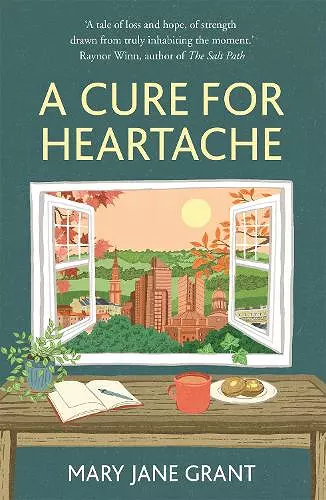 'A tale of loss and hope, of strength drawn from truly inhabiting the moment.' - Raynor Winn, bestselling author ofThe Salt Path

Heartwarming non fiction up lit about starting over and embracing life, one simple moment at a time.

Shattered when her 25-year marriage comes to an abrupt and painful end, writer Mary Jane Grant runs away to London to immerse herself in any reality but her own. Reeling from the shock and loss of her marriage and the life she's known, she begins to discover that if she can just focus on the moment, take notice of the people, the sights and smells around her, that her pain and grief start to recede.

From the bustling cafes of Camden and the pastel-coloured streets of Primrose Hill, to the sun soaked vineyards of the south of France, her journey leads her to rich new experiences that she could never have imagined in her old life. Real connections are made, she lets go of the things she no longer needs, and takes pleasure in the good, generous and beautiful parts of life that she encounters every day.

Beautifully and succinctly told, this is a story about what happens when you embrace life, whatever it may bring, with surprising - and joyful - results.

While the tea steeped, I split open the muffin and slathered butter across the warm, crumbly surface. I watched the butter melt. I took a bite. Memories of my grandmother's kitchen came back. I cradled the smooth white cup in my hand, ran my fingers over the uneven top of the time-worn wooden table. I looked around the place and watched people. Time passed. I realised that it was an hour since I first saw the sign telling me to smell the tea. And, all this time I had been possessed of neither sad memories nor anxious worries. I was completely and simply here, with the tea, the place, the people, myself. I was present. And it felt wonderful.
A tale of loss and hope, of strength drawn from truly inhabiting the moment.
ISBN: 9781473699649
Dimensions: 204mm x 136mm x 22mm
Weight: 288g
208 pages