This is a special Signed First Edition, and has very limited quantity available
The Happy Couple Signed First Edition
Format:Hardback
Publisher:Orion Publishing Co
Published:25th May '23
£16.99
Available to order, but very limited on stock - if we have issues obtaining a copy, we will let you know.
This hardback is available in another edition too: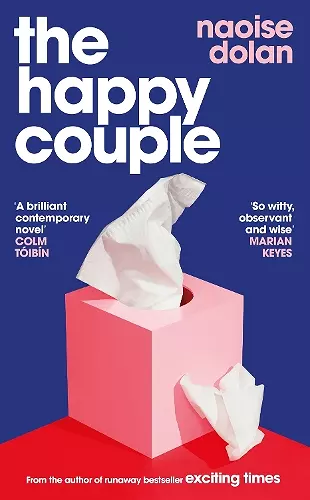 Meet the happy couple. Luke and Celine, are in mutual unrequited love with each other, set to marry in a year's time.

The best man, Archie, is meant to want to move up the corporate ladder and on from his love for Luke; yet he stands where he is, admiring the view.

The bridesmaid, Phoebe, Celine's sister, has no long-term aspirations beyond smoking her millionth cigarette and getting to the bottom of Luke's frequent unexplained disappearances.

Then there's the guest, Vivian, who with the benefit of some emotional distance, methodically observes her friends like ants.

As the wedding approaches and these five lives intersect, each character will find themselves looking for a path to their happily ever after - but does it lie at the end of an aisle?

Naoise Dolan, author of Exciting Times, makes the Marriage Plot entirely her own in a sparkling ensemble novel that is both ferociously clever and supremely enjoyable.
Sassy and smart and wickedly funny, Dolan's voice is uniquely her own. I inhaled every irreverent page -- Ruth Gilligan, author of The Butchers
I just finished The Happy Couple and I loved it - an extremely funny examination of modern love, with depth, bite and poignancy -- Daisy Buchanan, author of INSATIABLE
Dolan, whose debut novel Exciting Times was a storming success, is sure to bring her sparkling wit and insightful understanding of human relationships to this second outing * Irish Independent *
I pure LOVED The Happy Couple. So witty, observant, wise and funny. Nihilistic about heteronormative relationships but so charmingly done I barely noticed. I cannot tell you how much I enjoyed it -- Marian Keyes
A cracking ensemble, The Happy Couple is a beautiful sonata about our relationships and a sad fugue for fear and loneliness. The book is a tough, all-engrossing love-test. Dolan's acerbic humour is unapologetically analytical. She breaks the rule of intimacy with wit and panache that are second to none. I was kept on tenterhooks till the last few pages and my heart wouldn't stop pounding afterwards. I don't want to say goodbye to Luke and Celine. -- Kit Fan, author of DIAMOND HILL
Endlessly funny, endlessly inventive - a bold and stylish novel that slipped down and burned like a shot of something lovely -- Rebecca Wait, author of I'M SORRY YOU FEEL THAT WAY
A sophisticated character study of a young couple coming to terms with their relationship, in this biting, whip-smart look at modern love and the tangled messes we leave behind us. I am fully in awe of Dolan's talent. And so glad my twenties are over -- Douglas Stuart, author of YOUNG MUNGO and SHUGGIE BAIN
The Happy Couple is a dazzling follow-up to ExcitingTimes. Dolan spins her magic again with humour and insight and the sharpest of prose. Not a word out of place -- KATHERINE HEINY, author of STANDARD DEVIATION and EARLY MORNING RISER
The Happy Couple is just as satisfying as Exciting Times, and deals with class, money, gender dynamics and bisexuality with similar ease. Set between London and Dublin, it is a beautiful exploration of love, fidelity - and whether either are compatible with marriage -- Pandora Sykes
The funniest writer you will read this year. Every page crackles -- Irish Independent, on EXCITING TIMES
Droll, shrewd and unafraid -- Hilary Mantel, on EXCITING TIMES
Witty, compelling, with a razor-sharp social commentary. I guzzled it -- Pandora Sykes, on EXCITING TIMES
It's flawless -- Colm Tóibín, on EXCITING TIMES
I found myself purring with pleasure. This is comic writing at the highest level -- Craig Brown, on EXCITING TIMES
Ice cool, self-aware and very funny. Shares of Lorrie Moore and The Bell Jar -- Graham Norton, on EXCITING TIMES
I had real fun with Exciting Times. It is a very funny, spiky, Marxist, feminist comedy and it's really mean -- Zadie Smith, on EXCITING TIMES
A sharp, smart, witty modern love story. I loved it -- David Nicholls, on EXCITING TIMES
Naoise Dolan's prose accommodates equally well a quickening heart and a mind on fire -- Joshua Ferris, on EXCITING TIMES
Fiercely intelligent, brutally funny and written with such heart, EXCITING TIMES announces an impressive new voice in literature -- Nathan Filer, on EXCITING TIMES
ISBN: 9781474613491-SF
Dimensions: 222mm x 138mm x 30mm
Weight: 41g
288 pages