Notes on an Execution
The bestselling thriller that everyone is talking about
Format: Paperback
Publisher: Orion Publishing Co
Published: 5th Jan '23
£9.99
Available, normally delivered within 3-6 days.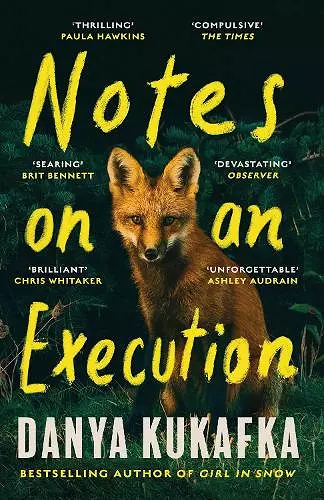 The devastating and unforgettable second novel from the author of international bestseller Girl In Snow, telling the story of a serial killer on death row through through three women whose lives he impacted
'THRILLING' Paula Hawkins
'COMPULSIVE' The Times
'SEARING' Brit Bennett
'DEVASTATING' Observer
'UNFORGETTABLE' Ashley Audrain
'BRILLIANT' Chris Whitaker

Ansel Packer is scheduled to die in twelve hours. But this is not his story.

Ansel doesn't want to die; he wants to be celebrated, understood. Yet now he awaits the same fate he forced on those girls, years ago.

This is the story of the women who survive.

As the clock ticks down, three women - a mother, a sister, a detective - reckon with the choices that culminate in tragedy, the impact on those in its wake, and the possibility of redemption.
A killer is on death row but this is not his story. It's the narratives of three women affected by his actions: his mother, Lavender; his ex-wife's sister, Hazel; and the female detective, Saffy, who tracked him down. Exploring the effects of violence by men and the worlds that are ruined, this is a breakout book for 2022 * Stylist, Books you can't miss in 2022 *
At once blistering with righteous anger and radical empathy, Notes on an Execution is destined to become a contemporary classic. * Esquire *
This novel is defiantly populated with living women; it ruminates on trauma, the criminal justice system and guilt . . . In particular, the relationships between women - sisters, friends, colleagues - are beautifully drawn, dense with detail and specificity . . . Notes on an Execution is nuanced, ambitious and compelling * Katie Kitamura, New York Times *
Spellbinding and beautifully written. Danya Kukafka's Notes on an Execution is an irresistible, unbearably tense thriller, a poignant, deeply compassionate tale of resilience, and a vital intervention in the way we talk about violent crime, its endless reverberations and foremost its survivors. * Megan Abbott, author of Dare Me *
A searing portrait of the complicated women caught in the orbit of a serial killer. Notes on an Execution examines a culture that romanticizes men who kill while also exploring the lives of the overlooked women altered by this violence. Compassionate and thought-provoking. * Brit Bennett, bestselling author of The Vanishing Half *
Reading Danya Kukafka's Notes on an Execution is a profound and staggering experience of empathy that challenges us to confront what it means to be human in our darkest moments. The stories of these richly drawn characters are layered like nesting dolls, each one revealing more about how we love and how we survive. Kukafka's prose, alive and poetic, is unforgettable. I relished every page of this brilliant and gripping masterpiece * Ashley Audrain, New York Times bestselling author of The Push *
Provocative, intelligent, thrilling, moving * Paula Hawkins, author of The Girl on the Train *
This author, who was Good Housekeeping book of the year winner with Girl In Snow, returns with a sledge-hammer of a thriller. As a killer awaits his execution on death row, we hear from three women affected by his actions: his mother, Lavender, his ex-wife Hazel and the detective who caught him * Good Housekeeping, The books we're looking forward to in 2022 *
Bruising, chilling, powerful and brilliant. Notes on an Execution is that rare book that transcends genre, moving from a deft thriller to an examination of fractured lives and the ripples of violent crime. Staggeringly accomplished * Chris Whitaker, author of We Begin at the End *
Notes On An Execution is seriously important crime fiction that trains the lens on a serial killer's victims rather than on the criminal himself and shows how the legacy of violence endures decades and leaves a tidal wave of collateral damage in its wake. Kukakfa's story is unflinching and unromantic, yet wrenching and devastating in equal measure. Never falling into the easy trap of sensationalism, Notes On An Execution pushes women to the forefront of a narrative that has too often overlooked them and all they suffer * Ivy Pachoda, author of These Women *
In Notes on an Execution, Danya Kukafka gives us something wrenchingly original, a rare and unsettling reading experience that challenges us to peel back what we believe about the criminal justice system, good and evil, and what human beings are capable of, both in darkness and in light. A moving tour de force of empathy and insight. I loved this book. * Paula McLain, author of The Paris Wife *
Masterly thriller . . . Kukafka skillfully uses the second-person present tense to heighten the drama, and toward the end she makes devastatingly clear the toll taken by Packer's killings * Publishers Weekly, starred review *
This novel opens on the day a serial killer, Ansel, is due to be executed. As the hours tick down, the narrative flashes back to tell the story of his life as seen through the eyes of three women whose lives he impacted, and complicates the popular mythos of the serial killer archetype * New York Times, Editor's Choice *
Unflinching, mesmerising, heartwrenching and deeply intelligent and compassionate * Gilly McMillan *
I'm calling it now: Notes on an Execution will feature heavily on awards lists in 2022. It's a devastatingly moving and timely novel about one man's crimes against women, subverting the standard glamorised portrayal of the killer and focusing on the women instead * Hannah Beckerman *
Danya Kukafka's Notes on an Execution isn't like the other books about serial killers you've read - this brilliant thriller takes readers inside the life of Ansel Packer, who's scheduled to die in 12 hours, through the perspectives of three women: his mother, his sister, and a homicide detective * Marie Claire *
Notes on an Execution is a career-defining novel - powerful, important, intensely human, and filled with a unique examination of tragedy, one where the reader is left with a curious emotion: hope * USA Today *
This distinctive take turns the overdone serial killer trope on its head, making it more palatable, more intelligent and more emotional. Kukafka portrays a sinister man through the perspectives of the women who knew and loved him, with subtle but shattering truths peppered throughout * Newsweek *
A chilling, surprisingly tender tale of how each tragedy ripples through many lives * Good Housekeeping US *
An intense thriller than reads like a mash-up of Law & Order and a college psych class. The fictional story of Ansel Packer, a serial killer on death row, is given a brilliant twist - it focuses on the women he affected, ultimately asking why we're drawn to crime stories about violent men. Cleverly constructed and smart, this is the kind of book you finish with a big exhale * Real Simple, The Best Books of 2022 So Far *
This literary suspense novel is a character study, an examination of what it means to be a woman, a critique of the American justice system, and much more * Book Riot *
Danya Kukafka's Notes on an Execution deserves to stand along Ivy Pochoda's These Women, Nicola Maye Goldberg's Nothing Can Hurt You, and Carolyn Ferrell's Dear Miss Metropolitan as victim-focused narratives that call out the exploitation of women's suffering in crime stories * CrimeReads, January's Best New Crime Fiction *
Perfectly constructed and exquisitely written . . . This is a serial killer novel that's more Dostoyevsky than Lars Keplar - rich, anguished, brilliant * Washington Post *
Kukafka upends the power dynamic of male serial killer and female victim in a thrilling second novel . . . It is deeper, wiser, more painful than her debut: devastating in its impact, and impossible to look away from. I can't remember the last time I finished a thriller in tears, not even sure by that point who my heart was hurting for * Observer, Thriller of the Month *
Puts the reader in the shoes of serial killer . . . to strip some mystique from the serial-killer mythology * Rolling Stone *
An extraordinary and powerful read . . . a book you'll read with your hand on your chest and your breath held * Prima *
This elegant, exquisitely written novel isn't just another story about a serial killer and is all the better for it * Red, Best Books of 2022 *
This ambitious novel deconstructs the serial killer genre while exploiting the conventions that make it so compulsive * The Times *
A new kind of crime fiction. It explores the lives of the survivors - shifting the power to those living with the consequences of violence . . . haunting and intense * The i *
A masterful slow burn of a novel . . . a poignant, beautifully written and necessarily uncomfortable read * Guardian *
A masterclass in just about everything . . . a gripping thriller . . . a compelling character study . . . but most of all a questioning and thoughtful look at a society that places more emphasis on the man who kills than the women who lose their lives . . . it achieves something I've never seen done before - it brings the women front and centre without making them victims and asks why we glorify men who kill. It's pretty spectacular * Sam Baker *
ISBN: 9781474625975
Dimensions: 196mm x 126mm x 32mm
Weight: 280g
320 pages