Where the World Ends
Format:Paperback
Publisher:Usborne Publishing Ltd
Published:8th Feb '18
£7.99
Available to order, but very limited on stock - if we have issues obtaining a copy, we will let you know.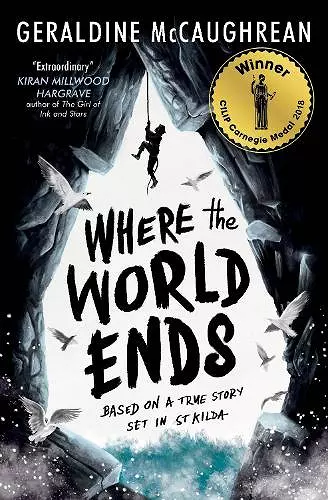 Winner of the CILIP Carnegie Medal, 2018
Every summer Quill and his friends are put ashore on a remote sea stac to hunt birds. But this summer, no one arrives to take them home. Surely nothing but the end of the world can explain why they've been abandoned - cold, starving and clinging to life, in the grip of a murderous ocean. How will they survive?
Winner of the CILIP Carnegie Medal.

Every summer Quill and his friends are put ashore on a remote sea stac to hunt birds. But this summer, no one arrives to take them home.

Surely nothing but the end of the world can explain why they've been abandoned - cold, starving and clinging to life, in the grip of a murderous ocean. How will they survive?

'Brilliant, beautiful...as unpredictable as the sea itself' Philip Reeve, author of The Mortal Engines

'This is the best book I've read this year. Extraordinary' Kiran Millwood Hargrave, author of The Girl of Ink and Stars
It's a rare book that can transport us back into the rapture of childhood reading, but this is one. * The Guardian *
Harshly beautiful, and stark with near-despair, this is an unsettling, deeply original historical novel. * The Guardian *
McCaughrean writes extraordinary books: emotionally thunderous stories that evoke place and atmosphere with uncommon vigour, and are expressed with exhilarating precision of language... * The Sunday Times *
Everything Geraldine McCaughrean touches turns to gold. * The Sunday Times *
An awe-inspiring writer. * Sunday Telegraph *
Winner of The CILIP Carnegie Medal 2018
Winner of Independent Bookshop Week (IBW) Book Awards 2018
Short-listed for St Helens Schools Library Service Book Awards 2018
Short-listed for Books Are My Bag Readers Awards 2018
Short-listed for Hillingdon Secondary Book of the Year 2018
ISBN: 9781474943437
Dimensions: 199mm x 139mm x 23mm
Weight: 280g
336 pages