Sexuality, Disability, and Aging
Queer Temporalities of the Phallus
Format:Paperback
Publisher:Duke University Press
Published:11th Jan '19
£21.99
Available to order, but very limited on stock - if we have issues obtaining a copy, we will let you know.
This paperback is available in another edition too: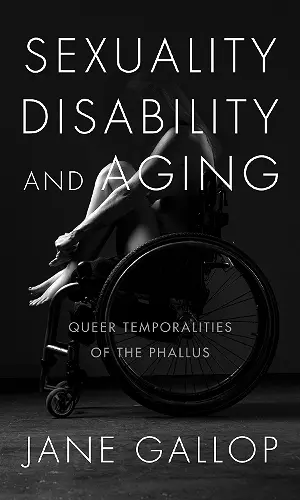 Jane Gallop explores how disability and aging are commonly understood to undermine one's sense of self and challenges narratives that register the decline of bodily potential and ability as nothing but an experience of loss.Drawing on her own experiences with late-onset disability and its impact on her sex life, along with her expertise as a cultural critic, Jane Gallop explores how disability and aging work to undermine one's sense of self. She challenges common conceptions that equate the decline of bodily potential and ability with a permanent and irretrievable loss, arguing that such a loss can be both temporary and positively transformative. With Sexuality, Disability, and Aging, Gallop explores and celebrates how sexuality transforms and becomes more queer in the lives of the no longer young and the no longer able while at the same time demonstrating how disability can generate new forms of sexual fantasy and erotic possibility.
"For Gallop, theory offers solace in the face of life's difficulties, and the book is often quietly moving. . . . Her use of theory isn't about blowing up previous thought; it's about finding consolation, which literature or philosophy is often said to provide." -- Jeffrey J. Williams * Chronicle of Higher Education *

"Overall, Sexuality, Disability, and Aging presents an insightful yet accessible analysis that combines wide-ranging theoretical work with rich interpretive material to carefully reveal the phallic temporalities that underpin contemporary stereotypes of aging and late-onset disability as sexual decline. The book's cross-cutting relevance means that it will find productive readership across a wide range of scholars interested in queer, crip, gerontological, literary, feminist, or psychoanalytic theory."
-- Kazuki Yamada * Journal of Bodies, Sexualities, and Masculinities *
"An inventive and captivating piece of scholarship. Bolstered by its original findings and the intricate theoretical maneuvers that Gallop makes throughout this text, the book is poised to be a valuable resource for scholars in the fields of queer theory, critical gerontology, and disability studies." -- Kyle Christensen * Women's Studies in Communication *
"
Sexuality, Disability and Aging
is a vital read for those interested in disability and sexuality as it contributes to indispensable discussions whilst simultaneously offering an alternative framework with which to aid progression within the field. . . . Gallop has compiled an accomplished text which is forward-thinking, unorthodox and paves the way for further discourse within the realms of disability, and for this, she must be commended." -- Bev Pollitt * Disability & Society *
"Gallop's willingness to reflect critically on her own experiences and reactions . . . reinvigorates feminist psychoanalytic theory, but also productively bridges the silences around aging and late-onset disability endemic to both disability studies and queer theory." -- Sarah Rainey-Smithback * Hypatia *
ISBN: 9781478001614
Dimensions: unknown
Weight: 204g
152 pages