Bird
Format: Paperback
Publisher: Bloomsbury Publishing PLC
Published: 19th Mar '20
£9.99
Available to order, but very limited on stock. If we have issues obtaining a copy, we will let you know..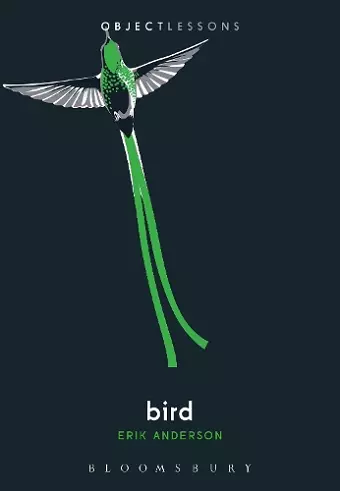 We tend to have romanticized and sentimental ideas about birds. But what is it about birds that so captivates us? And what does this captivation, in its various forms, say about us humans?
Object Lessons is a series of short, beautifully designed books about the hidden lives of ordinary things. Hope, as Emily Dickinson famously wrote, is the thing with feathers. Erik Anderson, on the other hand, regards our obsession with birds as too sentimental, too precious. Birds don't express hope. They express themselves. But this tension between the versions of nature that lodge in our minds and the realities that surround us is the central theme of Bird. This is no field guide. It's something far more unusual and idiosyncratic, balancing science with story, anatomy with metaphor, habitat with history. Anderson illuminates the dark underbelly of our bird fetish and offers a fresh, alternative vision of one of nature's most beloved objects. Object Lessons is published in partnership with an essay series in The Atlantic.
Anderson follows the trail of fallen tail feathers across the grid, articulating his findings with an undeniable personal touch, and a philosophical sting that leaves you wondering, 'what made us fall so deeply in love with birds? Why did it stick? What is beauty?' among other considerations. Anderson is the lead explorer in a journey that, for many, is long overdue. Before we know it, the journey extends farther than bird-watching and observation, and we are left looking at nature with the absence of our human goggles. * 433 Magazine *
"In his engaging writing style, Anderson skillfully introduces the reader to the spectacular world of birds…" * San Francisco Book Review *
From tiny corpses to obsessive scientists, hot sauce on the Gulf and tears in the Hall of Asian Animals, Bird is at once a quirky natural history and a personal journey, one that says as much about humanity as about the feathered creatures we have eaten, shot, studied, extincted, protected, and, sometimes, watched. As I write these words, science tells us North American bird populations have declined by a third. Reading this book is one of the steps we can take toward giving birds back to the air that belongs, first, to them. * Christopher Cokinos, Associate Professor of English, University of Arizona, USA, and author of Hope Is the Thing with Feathers: A Personal Chronicle of Vanished Birds (2009) and Bodies, of the Holocene (2013) *
ISBN: 9781501353352
Dimensions: unknown
Weight: 158g
176 pages