Air Conditioning
Format:Paperback
Publisher:Bloomsbury Publishing PLC
Published:8th Feb '24
£9.99
This title is due to be published on 8th February, and will be despatched as soon as possible.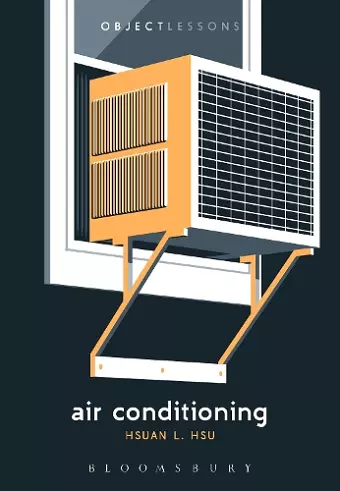 Explores the surprising social, cultural, historical, and environmental significance of air conditioning and of our efforts to control our climate.
Object Lessons is a series of short, beautifully designed books about the hidden lives of ordinary things. Air conditioning aspires to be unnoticed. Yet, by manipulating the air around us, it quietly conditions the baseline conditions of our physical, mental, and emotional experience. From offices and libraries to contemporary art museums and shopping malls, climate control systems shore up the fantasy of a comfortable, self-contained body that does not have to reckon with temperature. At the same time that air conditioning makes temperature a non-issue in (some) people's daily lives, thermoception—or the sensory perception of temperature—is being carefully studied and exploited as a tool of marketing, social control, and labor management. Yet air conditioning isn't for everybody: its reliance on carbon fuels divides the world into habitable, climate-controlled bubbles and increasingly uninhabitable environments where AC is unavailable. Hsuan Hsu's Air Conditioning explores questions about culture, ethics, ecology, and social justice raised by the history and uneven distribution of climate controlling technologies. Object Lessons is published in partnership with an essay series in The Atlantic.
A cool blast of discomforting brilliance, Air Conditioning examines the conditioning of our indoor and interior climates of work, domesticity, and consumption. It is not inward looking to the sealed boxes and bubbles of air-conditioned detachment, but focused on the complex exchanges and inequalities involved in sustaining comfortable places, cooled bodies and technologies by making other places, and other (often poor and racialised) lives, uncomfortable and unliveable. Hsu's book hums, ventilating ideas in an insistent, vital tone to show how this ordinary object, submerged within walls and behind vents, has mattered so much to us. * Peter Adey, Royal Holloway University of London, and author of Air (2014) *
Hsuan L. Hsu demonstrates how air conditioning has radically transformed how we think, feel, and relate to others. After reading this book, you'll never be as comfortable in an air-conditioned room again – and that's exactly the point. * Bharat Venkat, Associate Professor of Society & Genetics, History, and Anthropology, Director of the UCLA Heat Lab, and author of At the Limits of Cure (2021) *
ISBN: 9781501377822
Dimensions: unknown
Weight: unknown
168 pages