Can Democracy Safeguard the Future?
Format:Hardback
Publisher:John Wiley and Sons Ltd
Published:22nd Jan '21
£35.00
Available to order, but very limited on stock - if we have issues obtaining a copy, we will let you know.
This hardback is available in another edition too: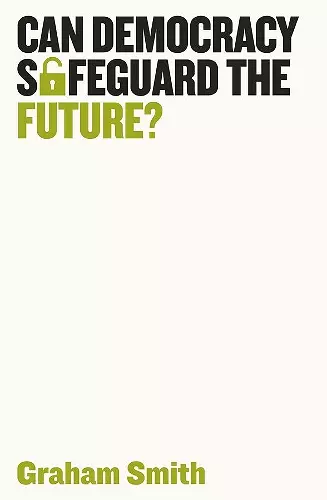 Our democracies repeatedly fail to safeguard the future. From pensions to pandemics, health and social care through to climate, biodiversity and emerging technologies, democracies have been unable to deliver robust policies for the long term.
In this book, Graham Smith asks why. Exploring the drivers of short-termism, he considers ways of reshaping legislatures and constitutions and proposes strengthening independent offices whose overarching goals do not change at every election. More radically, Smith argues that forms of participatory and deliberative politics offer the most effective democratic response to the current political myopia, as well as a powerful means of protecting the interests of generations to come.
"Crystal clear and utterly persuasive, this book offers a wealth of fascinating and powerful evidence that shows how deliberative mechanisms are the key to forging a new age of intergenerational justice. Essential reading for anyone who wants to be a good ancestor."
Roman Krznaric, author of The Good Ancestor: How to Think Long Term in a Short-Term World
"A careful, engaging look at the institutions we have so far devised to protect future generations that shows why some work and some do not and how we might blend together the best of different models. I didn't know 90% of what's in this book – and I thought I knew quite a lot."
Jane Mansbridge, Harvard University
ISBN: 9781509539246
Dimensions: 193mm x 130mm x 18mm
Weight: 249g
160 pages