The Super Cool Science of Star Wars
The Saber-Swirling Science Behind the Death Star, Aliens, and Life in That Galaxy Far, Far Away!
Format:Paperback
Publisher:Skyhorse Publishing
Published:18th Feb '21
Currently unavailable, our supplier has not provided us a restock date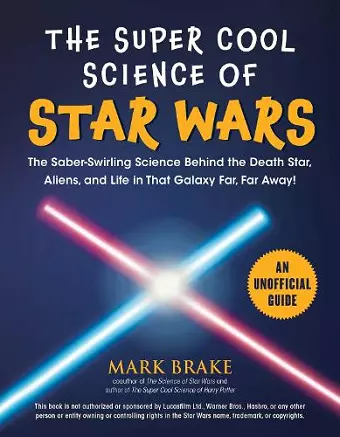 Learn about the science used by Luke Skywalker, Kylo Ren, Han Solo, Chewbacca, Princess Leia, and more in the Star Wars galaxy.

Star Wars has captured the hearts and imaginations of sci-fi fans worldwide. We all marvel at its dazzling variety of aliens, spaceships, and planets. That's because there's something revolutionary about the actual science in Star Wars. These painted pictures from the movies make us see the universe in a new light. They inspire us to ask questions such as:

How much would it cost to build a Death Star?
Did Star Wars predict the existence of exoplanets?
Could a single blast from the Death Star destroy the earth?
Could Starkiller Base suck the energy from a star?
And many more!
The Super Cool Science of Star Wars
is a book for any young
Star Wars 
fan. You don't need to be a Jedi scientist to make the jump to light speed and find the facts behind the Star Wars galaxy!
ISBN: 9781510753785
Dimensions: 229mm x 178mm x 15mm
Weight: 363g
136 pages