The Predictive Postcode
The Geodemographic Classification of British Society
Richard Webber author Roger Burrows author
Format:Paperback
Publisher:Sage Publications Ltd
Published:3rd Apr '18
Currently unavailable, and unfortunately no date known when it will be back
This paperback is available in another edition too: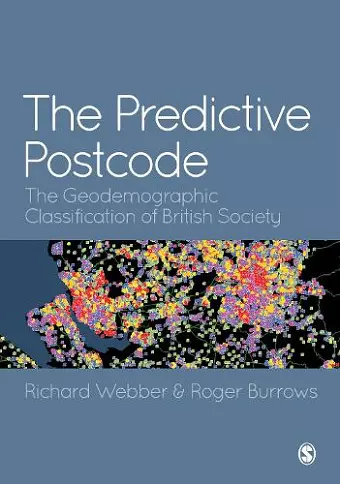 This book is a detailed, empirical investigation into the question of whether academic social research can compete with the commercial sector, with its new technologies and big data, in order to classify, profile, and understand us. 

It is not lost on commercial organisations that where we live colours how we view ourselves and others.  That is why so many now place us into social groups on the basis of the type of postcode in which we live.  Social scientists call this practice "commercial sociology".
Richard Webber originated Acorn and Mosaic, the two most successful geodemographic classifications. Roger Burrows is a critical interdisciplinary social scientist.  Together they chart the origins of this practice and explain the challenges it poses to long-established social scientific beliefs such as:
the role of the questionnaire in an era of "big data"
the primacy of theory
the relationship between qualitative and quantitative modes of understanding
the relevance of visual clues to lay understanding.
To help readers evaluate the validity of this form of classification, the book assesses how well geodemographic categories track the emergence of new types of residential neighbourhood and subject a number of key contemporary issues to geodemographic modes of analysis.
It's not your genetic code, bank account, ethnicity or social class designation that best reveals your secrets, but your zip- or post-code. Richard Webber and Roger Burrows uncover how your micro-geography reveals who you are in spatially divided nations. -- Danny Dorling

In the last two decades, geodemographic segmentations have transformed the way political parties, in the UK and around the world, understand the electorate and how they target and segment their the channels, content and framing of their voter contact and messaging, from doorstep canvassing through leaflets and direct mail to Facebook.  This book explores the fascinating detail of the spatial structure of our society and social change, and why the fine-grained scale of those patterns is so important to everyone seeking to win elections today.
-- Tim Waters
The book is remarkable in its ability to integrate insights from different spheres of knowledge: academic theory with commercial practice; marketing with geography and sociology; statistical methods with fresh insights into everyday behaviour.  If you're not already familiar with geodemographics this book will change the way you think about, understand and connect with your fellow citizens.
-- Jan Kestle
Drawing on examples from across the social sciences, such as school catchment areas, cities and neighbourhoods, crime and voting patterns, the book is full of wonderful stories about how and why the intersection between people and places matters so much in understanding contemporary societies.
The Predictive Postcode is both a political and methodological exegesis. At its heart, the authors throw a powerful punch at traditional statistical analysis. By revealing how qualitative and quantitative classifications are now routinely used, reinforced and morphed by the socio-technical infrastructures that are now part and parcel of our digital everyday lives, Webber and Burrows pave the way for an alternative kind of social science.
This is a beautifully accessible book, relevant to anyone interested in finding new ways of resisting and intervening the deeply unjust socio-cultural divisions that now mark so many societies worldwide.
-- Emma Uprichard
We've all heard the saying, 'you are what you eat', but most of us are incognisant of the 'you are where you live'adage which has come to prominence in contemporary marketing practices. In this superb new book by Richard Webber and Roger Burrows, sociological and geodemographic frameworks are brought together to demonstrate how physical address, and geolocative data, come to define a person's life chances and trajectory in important, if unseen, ways. The innovative approach developed by the authors has resonance for how social research and public policy is enacted, but it also attests the ways in which political and economic power progressively flows through the material environment and its virtual overlay. This wonderfully written and thought-provoking text is sure to become a classic in the urban studies and marketing fields, but also in public and policy debates about data-driven social stratification. -- Gavin J. D. Smith
Recent political and cultural upheavals have created a growing sense of how geography and identity reinforce one another. In this fascinating study, Webber and Burrows track the pre-history of geo-demographic analysis, weaving between the history of sociology with more recent commercial research methods. At a time of rising public awareness of gentrification and ′left behind′ populations, and growing anxiety surrounding the power of data analytics, this book provides crucial context for a number of our most pressing contemporary concerns. -- Will Davies
A compelling account of how geodemographics can challenge dated survey methods and simplistic measures of deprivation and of class to enhance our understanding of society through the effective application of 'commercial sociology′
-- Richard Harris
When I introduced geodemographics to the Automobile Association thirty years ago, it generated many novel and valuable insights into customer behaviour. As a result our communications came to be targeted far more precisely. This remains a vitally important application for geodemographics today. However, the scope of geodemographic analysis is much wider than just marketing.
The Predictive Postcode
uses geodemographics to provide a fresh understanding of social change during a highly dynamic period in the UK's history and in a way which is accessible to the general reader. -- Peter Mouncey
A unique and fascinating book that distils a lifetime of experience building geodemographic classifications and makes a robust case for their use as a framework to explore a wide range of socio-economic problems.
-- Alex Singleton
This book is historical, methodological, and personal.  It situates and traces the development of geodemographic practice.  Webber and Burrows show how this powerful method can yield insight into the evolution of neighbourhoods, cities, and countries.  This book clearly outlines the past, present, and potential future of geodemographics and in so doing will be of acute interest to leaders in the academy, industry, and government looking to better understand their customers, constituents, and/or research subjects. -- Seth Spielman
ISBN: 9781526402349
Dimensions: unknown
Weight: 630g
328 pages