Frida
The Biography of Frida Kahlo
Format:Paperback
Publisher:Bloomsbury Publishing PLC
Published:28th Jun '18
£16.99
Available for immediate dispatch.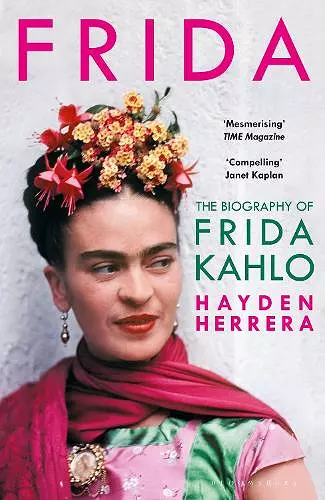 A reissue of the beautifully illustrated and authoritative biography of Frida Kahlo, publishing in time for a major London exhibition
The beautifully illustrated and authoritative biography of Frida Kahlo'Frida will hold its place as the first comprehensive biography of this most visceral of artists' Observer'Mesmerizing'TimeFrida is the story of one of the twentieth century's most extraordinary women, the painter Frida Kahlo. Born near Mexico City, she grew up during the turbulent days of the Mexican Revolution and, at eighteen, was the victim of an accident that left her crippled and unable to bear children. To salvage what she could from her unhappy situation, Kahlo had to learn to keep still – so she began to paint.Kahlo's unique talent was to make her one of the century's most enduring artists. But her remarkable paintings were only one element of a rich and dramatic life. Frida is also the story of her tempestuous marriage to the muralist Diego Rivera, her love affairs with numerous, diverse men such as Isamu Noguchi and Leon Trotsky, her involvement with the Communist Party, her absorption in Mexican folklore and culture, and of the inspiration behind her unforgettable art.
Hayden Herrera has succeeded admirably in cutting through the myths to offer a plausible likeness of this wretched, glorious woman * Independent *
Frida will hold its place as the first comprehensive biography of this most visceral of artists * Observer *
Mesmerizing * TIME Magazine *
Herrera presents intimate descriptions of Kahlo's sensuous and fiery nature, and discusses Kahlo's paintings with expert critical skill -- Janet Kaplan
ISBN: 9781526605313
Dimensions: unknown
Weight: 506g
528 pages