The Lost Girl King
Format:Paperback
Publisher:Bloomsbury Publishing PLC
Published:1st Sep '22
£7.99
Available for immediate dispatch.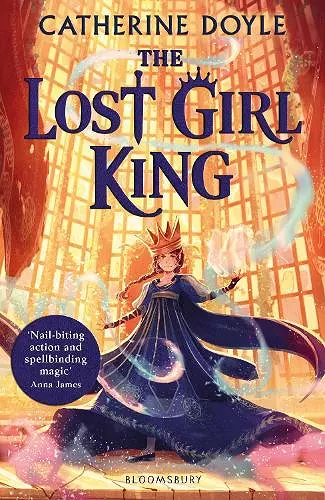 Step into the world of Tír na nÓg for the adventure of a lifetime. The unmissable new book from bestselling author Catherine Doyle is the next page-turning read for fans of Rick Riordan, Piers Torday and Kiran Millwood Hargrave
'The Lost Girl King echoes Lord of the Rings and Narnia, whilst being original and fresh. It's sure to become a classic of its own' - Aisha Bushby, author of A Pocketful of Stars 'A glorious gulp of a summer adventure' - Piers Torday, author of The Lost Wild 'Nobody writes peril, wit and wonder as well as Catherine Doyle … a modern Diana Wynne Jones' - Dave Rudden, author of Irish Children's Book of the Year, Knights of the Borrowed Dark ********** From the author of the bestselling Storm Keeper trilogy comes a new, spellbinding adventure… Amy and Liam Bell have been packed off to stay at Gran's house in the wilds of Connemara for the summer. Out for a walk on the first morning of their holiday, they trace the flight of a hawk to a nearby waterfall – only to watch the bird disappear through it. Intrigued, the children follow and soon realise they've discovered the entrance to Tír na nÓg, the legendary land of eternal youth. But they've been tricked. Almost immediately Liam is captured by a troop of headless horsemen who take him to Tarlock, the ruling sorcerer of Tír na nÓg, who is seeking the bones of a human child for a sinister new spell. Packed with edge-of-your seat adventure, incredible imagination, humour and warmth, The Lost Girl King is the rare kind of story that has you reading long past lights out.
Doyle is one of my favourite writers, and The Lost Girl King is another breakneck adventure full of folklore and family love. Prepare to be transported! * Ross Montgomery, author of Costa-shortlisted and Waterstones Children's Book of the Month The Midnight Guardians *
Few do page-turning, high-stakes, and warm and witty adventure as well as Catherine Doyle, and The Lost Girl King is a writer at the height of her powers. You won't want to put it down! * Kiran Millwood Hargrave, award-winning author of the Waterstones Children's Book Prize, Waterstones Children's Gift of the Year and the British Book Awards' Children's Book of the Year *
Nobody writes peril, wit and wonder as well as Catherine Doyle. The Lost Girl King is real magic – a novel brimming with the perfect balance of charm, humour and just the right amount of poetry in its prose. Doyle is a modern Diana Wynne Jones * Dave Rudden, author of Irish Children's Book of the Year Knights of the Borrowed Dark *
A thrilling adventure — loveable characters, magical folklore and a seriously scary villain. Truly one of the best fantasy stories I've ever read. * A.F. Steadman, author of Skandar and the Unicorn Thief *
A glorious gulp of a summer adventure * Piers Torday, author of The Last Wild *
Beautifully written, breathlessly exciting, and full of heart and humour, this is an epic adventure unlike no other. Be prepared to fall in love with The Lost Girl King * Louise O'Neill, author of Only Ever Yours *
What a fantastic story! I was utterly gripped throughout. I loved the Irish mythology, the snappy and humorous dialogue, the Greencloaks, the Fianna warriors, the peril and pace and dear old Gran. So much to savour! The way Catherine catapults the reader into the adventure from the off is just fabulous. Kids are going to adore this rollicking adventure * Abi Elphinstone *
Packed full of heart and humour, The Lost Girl King is the perfect mix of nail-baiting action and spellbinding magic * Anna James, author of Pages & Co. *
Catherine Doyle is a beautiful writer with an extraordinary imagination, as proven yet again with The Lost Girl King. The adventure sings with Doyle's signature heart, humour, and hope — it is the kind of timeless tale that readers of all ages will love. It truly made me feel like I had discovered the magical land of Tír na nÓg, and is a book I look forward to reading again and again whenever I once more want to return to Tír na nÓg. * Katie Tsang, bestselling co-author of DRAGON REALM series *
An exciting fantasy adventure inspired by Irish folklore and packed with humour, imagination and beautifully descriptive writing. The Lost Girl King echoes The Lord of the Rings and Narnia, whilst being original and fresh. It's sure to become a classic of its own * Aisha Bushby, author of A Pocketful of Stars *
I fell headlong in love with this absolutely enchanting adventure. Catherine's fantastical Tír na nÓg shimmers and bristles with magic and peril. With its roots in Irish folklore and its heart bursting with valiant spirit, this book will whisk you away to another world … ! I LOVED it! * Tamzin Merchant, author of The Hatmakers *
The Lost Girl King is an extraordinary adventure, full of peril, magic, and magnificent characters who bring Doyle's rich and vivid take on the mythical world of Tír na nÓg to life * Clare Povey, author of Waterstones CBOTM The Unexpected Tale of Bastien Bonlivre *
I was totally transported by this book. Fizzling with folklore and fun * Francesca Gibbons, author of A Clock of Stars *
Magical in every way * Eoin Colfer on THE STORM KEEPER'S ISLAND *
Funny, dark and blazingly beautiful * Kiran Millwood Hargrave on THE STORM KEEPER'S ISLAND *
ISBN: 9781526608000
Dimensions: unknown
Weight: unknown
336 pages