Everybody Needs Beauty
In Search of the Nature Cure
Format:Paperback
Publisher:Bloomsbury Publishing PLC
Published:23rd Jun '22
£9.99
Available for immediate dispatch.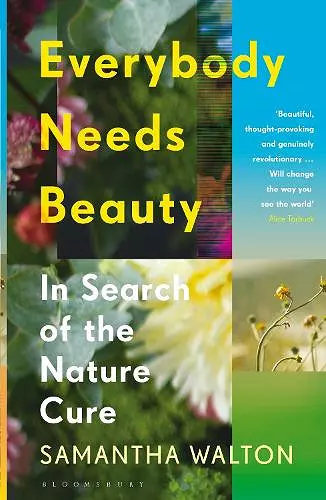 A culturally expansive, deeply researched and exquisitely written journey into the 'nature cure' phenomenon: its cultural legacy, the science behind it, and its uncertain future
'Beautifully written, intimate and intellectually fascinating' Nathan Filer'This book represents, genuinely, a moment of ground-breaking importance for how we think about nature, access and wellbeing in late capitalism' Dr Alice Tarbuck 'Impeccably researched . . . A call to us all to find a place within the simplicity and complexity of nature' Lara Maiklem, bestselling author of Mudlarking Everybody is talking about the healing properties of nature. Hospitals are being retrofitted with gardens, and forests reimagined as wellbeing centres. On the Shetland Islands, it is possible to walk into a doctor's surgery with anxiety or depression, and walk out with a prescription for nature. Where has this come from, and what does 'going to nature' mean? Where is it – at the end of a garden, beyond the tarmac fringes of a city, at the summit of a mountain? Drawing on history, science, literature and art, Samantha Walton shows that the nature cure has deep roots – but, as we face an unprecedented crisis of mental health, social injustice and environmental devastation, the search for it is more urgent now than ever. Everybody Needs Beauty engages seriously with the connection between nature and health, while scrutinising the harmful trends of a wellness industry that seeks to exploit our relationship with the natural world. In doing so, this book explores how the nature cure might lead us towards a more just and radical way of life: a real means of recovery, for people, society and nature.
Everybody Needs Beauty is a tender but rigorous corrective to the stories we are sold about nature, wellness and our planet. Walton's prose is inviting, personal, but uncompromising: she examines who profits, and who loses, in our rush to outsource wellness to an unwell planet. Beautiful, provoking and genuinely revolutionary, Walton offers us a way forward - a call to action that opens up the radical potential that both we, and our world, house within us. A book that will change the way you see the world -- Dr Alice Tarbuck, author of A SPELL IN THE WILD
Beauty can seem in short supply these days. Samantha Walton punctures insipid nature cure myths and shows that not only do we all need beauty, but that it's available to everyone. Essential reading for our trammelled, troubled times -- David Farrier, author of FOOTPRINTS
Impeccably researched. Just a few pages in and I was already analysing my own engagement with the natural world. Everybody Needs Beauty is a call to us all to find a place within the simplicity and complexity of nature -- Lara Maiklem, bestselling author of MUDLARKING
Beautifully written, intimate and intellectually fascinating -- Nathan Filer, author of THIS BOOK WILL CHANGE YOUR MIND ABOUT MENTAL HEALTH and THE SHOCK OF THE FALL
An account of the different ways in which people have sought and continue to seek healing in nature . . . Everybody Needs Beauty builds to the conclusion that it is not the experience of being in nature that makes us feel better, but that the soul is bolstered by a sense of the self's complicity, presence and ability to provide care * Arts Desk *
ISBN: 9781526621023
Dimensions: unknown
Weight: unknown
336 pages