The Perfect Golden Circle
Selected for BBC 2 Between the Covers Book Club 2022
Format:Paperback
Publisher:Bloomsbury Publishing PLC
Published:18th May '23
£8.99
Available for immediate dispatch.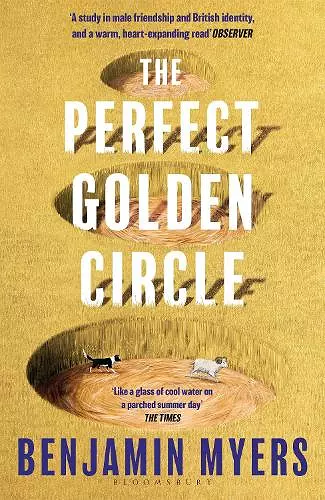 From the Walter Scott Prize-winning author of The Offing and The Gallows Pole comes a powerful new novel about male friendship and the healing power of nature
'In this folksy, magnetic tale, two outsiders seek healing and enlightenment by creating crop formations in a Wiltshire field ... A memorable hymn to beauty' OBSERVER'The pleasures of this bountiful novel are like a glass of cool water on a parched summer day' THE TIMES England, 1989. Over the course of a burning hot summer, two very different men – traumatized Falklands veteran Calvert, and affable, chaotic Redbone – set out nightly in a clapped-out camper van to undertake an extraordinary project. Under cover of darkness, the two men traverse the fields of rural England in secret, forming crop circles in elaborate and mysterious patterns. As the summer wears on, and their designs grow ever more ambitious, the two men find that their work has become a cult international sensation – and that an unlikely and beautiful friendship has taken root as the wheat ripens from green to gold.
A book is shot through with a romantic, even mystical radicalism of the kind that William Blake would have approved of. * DAILY TELEGRAPH *
A joy * DAILY MAIL *
The understated, plangent loveliness of Myers's storytelling is reminiscent of Mackenzie Crook's brilliant TV series Detectorists. Here is a strong, spiritual writer who sees and loves every dewdrop, old oak, soft little animal and buried sword, and offers them up to us like the precious treasures they are. The Perfect Golden Circle deserves top ranking in any list of the best books about rural England * THE TIMES *
In this folksy, magnetic tale, two outsiders seek healing and enlightenment by creating crop formations in a Wiltshire field ... combining lyricism with comedy and themes that range from warfare and environmental calamity to hope and healing ... A memorable hymn to beauty * OBSERVER *
Clever, angry, poignant and beautifully constructed ... A work of love, and a work about works of love, and a work that evokes a sense of love in the reader * SCOTSMAN *
The beauty of Myers' language alone is reward enough to read this superb novel, but The Perfect Golden Circle offers so much more: an all-too-rare literary depiction of rural England, the depths of the two central characters, the class and ecological concerns; but most of all the human need for what the Welsh poet Bobi Jones called "the boundless mystery that comforts being." A truly remarkable novel -- RON RASH
The Perfect Golden Circle is a triumph of a book, showcasing a writer at his very best. There is a huge heart beating in this magical story. A heartfelt story that is transformative and transportive ... Moving and exhilarating, tender and slyly witty, The Perfect Golden Circle is a captivating novel about the futility of war, the destruction of the English countryside, class inequality – and the power of beauty to heal trauma and fight power * STORGY *
An odd and winsome pleasure: a novel of friendship, collaboration, and environmental guerrilla art * KIRKUS *
No one writes about the atmosphere, beauty and brutality of the English countryside better than Ben Myers. And it's hard to think of many people who can write with with such attentiveness, tenderness and force about the importance of human connection and the redemptive power of art. Quite simply, this is a magnificent book -- WENDY ERSKINE
A strange, magical extraordinary book. It's so atmospheric, so strange and affecting. I don't think I've ever read anything quite like it before, and I'm not sure how Myers has made it work, but he has - I was totally gripped by this -- JENN ASHWORTH
Benjamin Myers is a writer of extraordinary and incandescent talent. Like J. L. Carr's A Month in the Country, this is a book about beauty and warfare, about how to heal a wrecked heart. I loved it -- ALEX PRESTON
I felt that The Offing was a beautiful counter to the boundaries of age, class, gender and nationality, and Ben pulls it off again here, this time writing a tender exploration of how men deal with trauma as he evokes a long hot summer in which two ordinary men unconsciously deal with their demons by creating magic in sun-kissed Wiltshire fields. I often find the best stories are those most simply told as here in this invocation of the ancient human need to create, away from the shackles of art education and academic theory -- LUKE TURNER
Benjamin Myers is fast making the contested boundary between history and folklore his own. The ballad of Redbone and Calvert somehow combines the ease and warmth of The Offing with the sinew and menace of The Gallows Pole -- JOHN MITCHINSON
The Perfect Golden Circle staggers the reader with its wit and beauty and the power of its charged poetry. Myers offers both a soulful portrait of a friendship between two damaged, resilient men and a series of striking glimpses into war, mythology, politics, history, the natural world and art. Like the creations of its protagonists, the impressions this novel leaves are majestic, mysterious and lasting -- SAM LIPSYTE
Benjamin Myers is one of my favorite British novelists working today. The Perfect Golden Circle is brilliant and breathtaking. It's a novel about the quest for beauty and mystery in a world that's falling apart around us -- WILL VLAUTIN
An investigation of trauma, class, healing and male friendship * GUARDIAN, BOOKS OF THE YEAR 2022 *
A number of titans and titans-in-the-making are looking backwards, from Anne Tyler… to Benjamin Myers in The Perfect GoldenCircle * NEW STATESMAN, BOOKS OF THE YEAR 2022 *
An exhilarating, outdoor song of hope and vision, The Perfect Golden Circle taps into something charged, ancient and elemental in England and its people -- ROB DOYLE
Praise for The Offing: 'What a radical thing, these days, to have written a book so full of warmth and kindness ... Gorgeous -- MAX PORTER
This quiet, lyrical novel confirms a powerful new voice * THE TIMES *
It's a poignant story, and Myers' descriptions of the countryside are wonderful * MAIL ON SUNDAY *
One of the most interesting, restless writers of his generation … Unfurling at the unhurried pace of a fern, it's an evocatively lyrical paean to the countryside – deeply felt and closely observed * DAILY MAIL *
A draft of cool, clear water, it feels like a cleansing book ... He's such a good and brave writer … there's a lot of heart in this book ... I was comparing it to some Ted Hughes poetry and it's so much more hopeful than that … there's light in this landscape ... A very original writer and has pushed the form in all kinds of ways * MONOCLE *
Every page is studded with descriptive jewels … Deeply attuned to the natural world … Poetic … This book is a sensual pleasure … It's about the forever things: good food, and art, and friendship, and how those pleasures can redeem us, even during the harshest of times * NEW STATESMAN *
Quietly gripping … Written with Myers's customary grit and brio … A welcome advance, one that sees Myers effortlessly extending his range * GUARDIAN *
The ever-versatile Myers channels the gently uplifting dynamics of The Offing for this richly atmospheric account of male friendship, the fragility of the countryside and the archaic allure of crop circles * WATERSTONES *
ISBN: 9781526631428
Dimensions: unknown
Weight: unknown
256 pages