A Visible Man
The Top 5 Sunday Times bestseller and BBC Radio 4 Book of the Week
Format:Hardback
Publisher:Bloomsbury Publishing PLC
Published:6th Sep '22
£25.00
Available for immediate dispatch.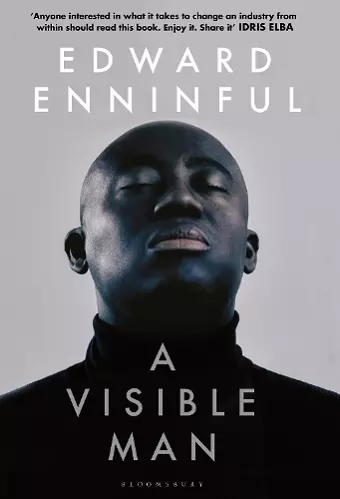 From one of fashion's most important change-makers, a memoir of breaking barriers
* THE SUNDAY TIMES BESTSELLER ** A BBC RADIO 4 BOOK OF THE WEEK * 'I wish he could be editor of the world!' GRAHAM NORTON 'Enjoy it. Share it.' IDRIS ELBA 'Inspirational . . . and it's not just for people in fashion' CLAUDIA WINKLEMAN 'One of the most inspirational books I've ever read' CHRIS EVANS 'Inspiring and fascinating' BERNARDINE EVARISTO 'Courageously truthful' SALMAN RUSHDIE 'Edward Enninful is a pioneer' ELIZABETH DAY — Why look back when you can look forward? Why look in when you can look out? Where's the next evolution? I throw everything into my work, but once it's done, I'm really more concerned with what's new. The future is my thing.Edward Enninful has lived an extraordinary life. Here, for the first time, he shares the inspiring story of his journey, beginning in a childhood bedroom in Ghana overlooking firing squads, to arriving in 1990s London as an asylum seeker, to today setting the cultural agenda as the first Black editor-in-chief of British Vogue. His covers have changed our understanding of beauty and desirability. Featuring exclusively African models, first responders, global activists and the oldest cover star at age 85, they have also broken sales records. This is the story of how he did it.A Visible Man is the story of a husband, son, brother, friend – and icon. Taking us from the neon thrills of Soho clubs to nights spent on friends' sofas, this is the story of Edward's phenomenal grit and determination: through fame and failures, joy and loss, ill health and addiction, heartbreak and coming out. It's the story of one man's revolutionary mission to change how we see the world, showing how unwavering passion and perseverance can allow anyone to make their mark.
Anyone interested in what it takes, from a beautiful human being's point of view, to change an industry from within, should read this book. Edward offers an insight only he can -- Idris Elba
Edward Enninful inspires a whole new generation to show us anything is possible when you work hard with love and passion . . . This book is a revelation and shows the genius and strength of this wonderful, pioneering, legendary man of fashion -- Donatella Versace
I had so much fun reading A Visible Man. Edward, as always, speaks from his very large heart -- Grace Coddington
His absorbing self-portrait gives us profound insights into growing up black and gay in Ghana, London, and in the fashion media . . . It's a terrific and, I think, important book -- Salman Rushdie
What fun! -- Kate Moss
Edward's story is a true beacon of inspiration, hope and change for the better. He has blazed a path for so many to follow, which sadly had never been possible before -- Claudia Schiffer
Edward's journey is a lesson for the culture and future generations to come -- Naomi Campbell
An inspiring and fascinating memoir about an extraordinary man who has become a major global changemaker . . . He writes about the highs and lows of his life and career with an admirably honest self-awareness about his own vulnerabilities . . . [and] a deep understanding of what it takes to succeed when you are considered an outsider -- Bernardine Evaristo
Inspiring, entertaining, ground-breaking -- Munroe Bergdorf
I knew very little of Edward Enninful's life before reading his new memoir. What a story! A fairytale that never shies away from the harsh realities of contemporary life. I wish he could be editor of the world!' -- Graham Norton
Edward's book is the proof that you that you can have a beautiful soul, an extraordinary eye, and a loving heart… and confirms that showing vulnerability can be inspiring and glamorous! -- Diana von Furstenberg
Edward Enninful is not just a local hero but a globe icon -- Steve McQueen
Edward is carrying out important work, leading change, and challenging the obsolete elements of the fashion system, while never disrespecting the legacy and the goals that fashion has achieved -- Giorgio Armani
A remarkable book' -- Krishnan Guru-Murthy
The memoir — beautifully written and compelling — depicts the story of a shy, studious boy from a conservative, high-achieving family whose talent and drive propelled him from nowhere to the top of the fashion world . . . He is a serious man, on a serious mission; complacency is not in his vocabulary * Irish Examiner *
What a book . . . I inhaled it . . . Inspirational . . . The book is wonderful . . . and it's not just for people in fashion -- Claudia Winkleman
ISBN: 9781526641533
Dimensions: unknown
Weight: unknown
288 pages