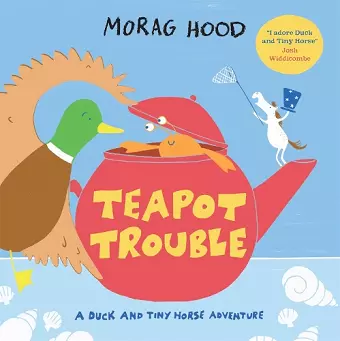 Another hilarious adventure for the unlikely duo, Duck and Tiny Horse.
'I adore Duck and Tiny Horse. Funny, silly and totally original' - Josh Widdicombe
'It's a hoot.' - The Sunday Times

Perfect for reading aloud, Teapot Trouble is a warm and silly picture book that children (and adults) will find hilarious.

Something or someone is living inside Duck's teapot! Who are they? What do they want? How will we get them out? Never fear, for Tiny Horse is here! Tiny Horse has a trampoline. She has a magnificent hat. She has a stick of celery. What more could anyone need to save the day?

A laugh-out-loud story with a message about kindness, starring Duck and Tiny Horse, the brave spaghetti hunters from Spaghetti Hunters. Morag Hood is the award-winning creator of Colin and Lee, Carrot and Pea, When Grandad Was a Penguin, Aalfred and Aalbert and I Am Bat.
I adore Duck and Tiny Horse. Funny, silly and totally original * Josh Widdicombe *
It's a hoot * The Sunday Times *
ISBN: 9781529026146
Dimensions: 250mm x 250mm x 6mm
Weight: 182g
32 pages