A Girlhood
A Letter to My Transgender Daughter
Format:Hardback
Publisher:Pan Macmillan
Published:19th Jan '23
£16.99
Available for immediate dispatch.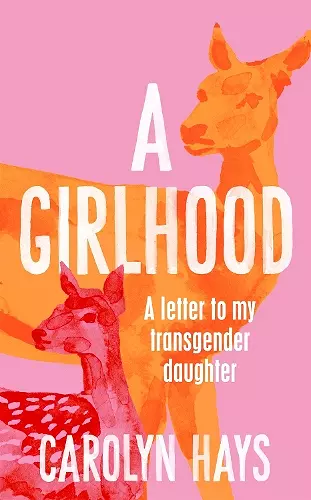 A parent's deeply moving love letter to her trans daughter and the illuminating story of one family's experience of having a trans child and sibling.
'Stunning . . . Built like a thriller, moving, wise and illuminated on every page with love' -Joanne Harris, author of Chocolat

A parent's deeply moving love letter to a daughter who has always known exactly who she is.

When Carolyn Hays's child made clear to the family that they were all wrong, he was not a boy, but, in fact, a girl, the Hays shifted pronouns, adopted a nickname and encouraged her to dress as she felt comfortable. One ordinary day, a caseworker from the Department of Children and Families knocked on their door to investigate an anonymous complaint about the upbringing of their transgender child. It was this threat that instilled in them a deep-seated fear for their child's safety in the Republican state they called home. And so they uprooted their lives to the more trans-accepting Northeast United States, though they were never far from the hate and fear resting at the nation's core.

Intimate, lyrical and thought-provoking, A Girlhood is an ode to Hays's brilliant, brave child, as well as a cathartic revisit of the pain of the past. It tells of the brutal truths of being trans, of the sacrificial nature of motherhood, and of the lengths a family will go to shield their youngest from the cruel realities of the world. Hays asks us all to love better, for children everywhere enduring injustice and prejudice just as they begin to understand themselves. A Girlhood is a celebration of difference, a plea for empathy, a hope for a better future, but moreover, it is a love letter to a child who has always known herself and is waiting for the rest of the world to catch up.
Stunning . . . Built like a thriller, moving, wise and illuminated on every page with love' -- Joanne Harris, author of Chocolat
Hays's story is about more than the transgender question: it's about ignorance and wisdom; hatred and love; men, women, and children. In the end, A Girlhood is about all of us. -- Jennifer Finney Boylan, author of She's Not There and Good Boy
It's impossible to read this book and not root for the fierce, human, beautiful family at its center and the daughter that they - 'like tanks' - protect against those who try to steal her joy. -- Beth Ann Fennelly, author of Great with Child: Letters to a Young Mother
'I saw facets of my own trans identity I'd never pondered, questions about the construction of self I'd never even thought to pose . . . An act of epic compassion. -- Diana Goetsch, author of This Body I Wore
Touching, combative, compelling . . . this memoir begins with the suspense of a thriller and ends with hope * Vogue (Italy) *
An important and moving book, which traverses family bonds, change, courage, politics, rights, faith and reason . . . dictated by a love that will not accept compromises. * La Repubblica *
An incredibly poignant and timely story for trans families everywhere. I wish my parents had access to these words, stories, and beautiful thoughts while raising me -- Tommy Dorfman
ISBN: 9781529064483
Dimensions: 223mm x 143mm x 31mm
Weight: 400g
288 pages