Reflections
The Sunday Times bestselling book of life lessons from superstar presenter Holly Willoughby
Format:Hardback
Publisher:Cornerstone
Published:28th Oct '21
£20.00
Available for immediate dispatch.
This hardback is available in another edition too: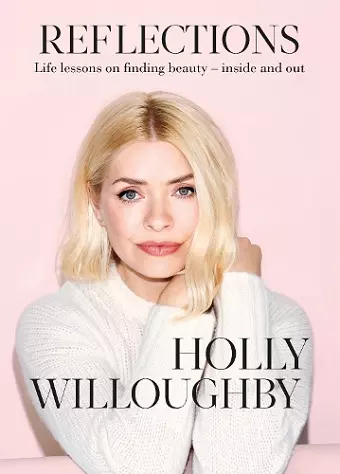 ________________________
AVAILABLE TO PRE-ORDER NOW

A heartfelt, perceptive book about finding beauty, inside and out.

Reflections explores what it means to live a beautiful life in the modern world.
THE SUNDAY TIMES BESTSELLER

'From the heart. It feels so authentic . . . Encompassing and inclusive . . . Reads beautifully and fluidly and feels like having a chat with your best friend' - Elizabeth Day on HOW TO FAIL

'The book is a triumph...an accessible insight into the woman behind the brand' Grazia
________________________

Have you ever found yourself in that moment where you just wonder - what's next? I could carry on as I am but there's a yearning for something else. That's where this book started for me...

Presenter. Fashion icon. Wife. Mother. Holly Willoughby lights up the nation's TV screens every day but, like all of us, she has struggled with moments of self-doubt, feelings of guilt, anger and detachment. Here she shares how she has learned to reconnect with herself in order to face her fears head on.

With her trademark warmth, Holly shows how listening to her inner voice and celebrating life's little moments of beauty and joy - like looking up at the moon or finding the perfect red lipstick - helped her feel whole again.

Reflections is an empathetic, encouraging book that will inspire you to live your most beautiful, authentic life.

WHAT READERS ARE SAYING:
-'I rarely read and read this book in two days! Much of what Holly wrote about resonated with me and I've taken so much practical advice away with me.'
-'Like little snippets of therapy'
-'This book is brilliant. Holly addresses many things that we all face in life and gives her best advice on how to overcome them. Fantastic for anyone but mostly anyone who suffers any kind of anxieties or self consciousness.
-'Amazing . . . Holly is just fabulous and I can't put it down, so nice to know we aren't in this journey alone'
-'So beautifully written and relatable in lots of ways. It will be a book that I am sure I will keep taking off of my book shelf to keep going back...
From the heart. It feels so authentic . . . Encompassing and inclusive . . . Reads beautifully and fluidly and feels like having a chat with your best friend -- Elizabeth Day * HOW TO FAIL *
I can't put this book down! What an incredible read. -- Mrs Hinch
Brilliant -- Philip Schofield
A fantastic book -- Alison Hammond
This little book is a great pick-me-up, full of inspiration from Holly, who reveals what works for her when life gets tricky * Woman's Weekly *
ISBN: 9781529135718
Dimensions: 232mm x 167mm x 27mm
Weight: 900g
272 pages