Invisible Child
Winner of the Pulitzer Prize in Nonfiction 2022
Format: Paperback
Publisher: Cornerstone
Published: 12th Jan '23
£10.99
Available, normally delivered within 3-6 days.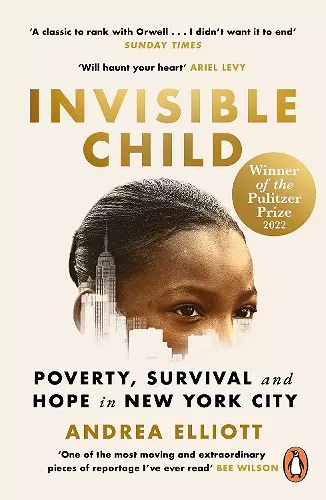 Based on nearly a decade of reporting, Invisible Child follows eight dramatic years in the life of Dasani Coates, a child with an imagination as soaring as the skyscrapers near her Brooklyn homeless shelter. Born at the turn of a new century, Dasani is named for the bottled water that comes to symbolise Brooklyn's gentrification and the shared aspirations of a divided city. As Dasani moves with her family from shelter to shelter, this story traces the passage of Dasani's ancestors from slavery to the Great Migration north.

Dasani comes of age as New York City's homeless crisis is exploding. In the shadows of this new Gilded Age, Dasani leads her seven siblings through a thicket of problems: hunger, parental drug addiction, violence, housing instability, segregated schools and the constant monitoring of the child-protection system.

When, at age thirteen, Dasani enrolls at a boarding school in Pennsylvania, her loyalties are tested like never before. Ultimately, she faces an impossible question: What if leaving poverty means abandoning the family you love?

By turns heartbreaking and revelatory, provocative and inspiring, Invisible Child tells an astonishing story about the power of resilience, the importance of family and the cost of inequality.
Andrea Elliott's reporting has an intimate, almost limitless feel to it... The result of this unflinching, tenacious reporting is a rare and powerful work whose stories will live inside you long after you've read them. * New York Times *
A monumental work of journalism * Sunday Times *
This is non-fiction writing at its best - uncluttered, evocative and well-researched... This is not a polemic. Elliott bears witness but does not preach; she shows but rarely tells. She does not pretend to be a neutral bystander (how could you immerse yourself in a struggling family for eight years and not root for them?) but does not intrude on her own storytelling. It is not a morality play either. The villains are too elusive and the heroes too flawed for that. This is structural, generational poverty at work in all its gruesome, demeaning inhumanity and punitive, institutional brutality. -- Gary Younge * New Statesmen *
A gripping and propulsive work of narrative non-fiction . . . [an] indelible, virtuosic portrait of contemporary America * Financial Times *
A triumph of in-depth reporting and storytelling ... a visceral blow-by-blow depiction of what 'structural racism' has meant in the lives of generations of one family ... above all else it is a celebration of a little girl-an unforgettable heroine whose frustration, elation, exhaustion, and intelligence will haunt your heart. -- Ariel Levy
An intimate exploration of poverty and racism in the U.S., as well as a portrait of a young person's resilience * Time *

Invisible Child is hands down the best book I have read in years. Astonishing, remarkable, shocking, powerful, gripping, compelling. All of these words apply and more. This is a book of immense importance, written with tremendous craft and skill, but also compassion and verve . . . For those who have not read Invisible Child I am jealous, you are in for an extraordinary ride. Simply put, this is a masterpiece.
* Thomas Harding, bestselling author of Hanns and Rudolf and The House by the Lake *
Sure to linger in the minds of many readers long after the last page has been turned... What easily could have been, in lesser hands, voyeuristic or sensational is instead a rich narrative, empathetically told.
Elliott is a masterful storyteller
and, by sharing Dasani's story, she calls on all of us to dismantle the systems that so often failed her and countless others * NPR *
A tour de force * The i *
An eye-opening, heartbreaking and deeply enraging book about the realities of contemporary US inequality * Irish Times *
A tender portrait of a family, and a tour of America's broken welfare systems and racist policies. * The Atlantic *
A fascinating and powerful epic * Stylist *
A towering feat of reporting
that paints, layer by layer,
an extraordinary portrait of a child, a family, a city, and the nation
that produced them. From start to finish, she sustains an
insatiably curious and deeply empathetic
focus on worlds that so many people work hard, if mostly unconsciously, to never really see. * Howard W. French, author of Born in Blackness *
A wonderful and important book.
-- Tracy Kidder, author of Mountains Beyond Mountains
Invisible Child is a tour de force of immersive reporting and a meticulous and unflinching depiction of intergenerational American povert
y... Elliott exposes the granular texture of daily life with deep empathy, the punishing sameness of material want, and in the process paints a sweeping portrait of contemporary American life. -- Anthony Lukas Prize Judge's Citation * Nieman Foundation *
ISBN: 9781529156102
Dimensions: 198mm x 129mm x 37mm
Weight: 426g
624 pages